Intrigued by Primary Teaching Job! Want to make sure you are making the right choice!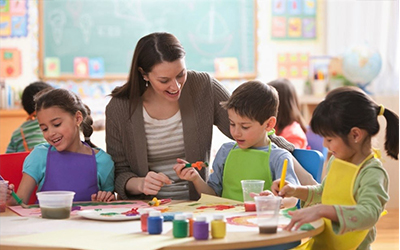 If teaching is essentially your true calling, then you'll be relieved to know that building a career as a primary school teacher is no rocket science. Working with children can be exhilarating, fun, and gratifying!


This blog ensures to give you a clear picture of whether teaching is for you and how you can build a career towards your highest good.
What do I need to know!
Before you set your eyes on Primary teaching jobs, make sure you have had a little self-talk on these questions:
Do you enjoy spending time with children?
Can you be patient around them?
Are you comfortable with responsibilities that comes with it?
Is the salary range supportive of your lifestyle?
Does teaching opportunities align with your long-term goal?
All of these questions will help you to 'get the big picture'. Figuring out your interests and need will eventually guide towards achieving job satisfaction – an essential ingredient for teaching young learners. Teachers from elementary schools have an immense contribution towards shaping children and developing their foundation towards learning. Thus, it is quite imperative to know that you are confident and empowered by pursuing your teaching career.

What Does The Job Role Looks Like!

You are going to handle young learners from 6 to 12 years (Grade 1-5) of the age group. A Primary school teacher's role is to facilitate these children develop their intellect educationally, socially and emotionally. Children of this age group have just entered the formal education system, hence as a teacher, it becomes your duty to help them with their transition while being patient and nurturing towards them.
Few of the Primary Responsibilities are –

Preparing lesson plan and presenting them in class
Helping each child to participate in activities
Managing your classroom and monitoring the behavior of each children
Assess and evaluate students based on the curriculum
Reporting to the authority about class progress
Attending relevant meetings and keeping yourself updated with the school curriculum
Organizing and coordinating school events, tours, picnics, etc.
Your Best Steps would be:
1. Getting a Professional Degree
If you are someone who just finished your graduation or someone who wants to shift to the teaching profession, undergoing professional teacher training will be a smart choice. Two things need to be kept in mind: first, your eligibility will matter and second, professional degrees are designed to boost your proficiency which is the key to crack the job.
Primary teacher training courses
will not only make you eligible to apply but will make sure that you have a solid foundation to stand on when it comes to meeting the job expectation.
While you are wondering over which course to pursue, look for these two fundamental elements:
Accreditation
are both important and fundamental. The authenticity of an institute assures recognition and guarantees quality training. The sole purpose of acquiring a professional degree is to make sure it pays off.
Accredited teacher training certification courses
provide validity, quality and acceptance throughout the globe.
Find out more from this video:
Also, look for an institute that commits to guide you in hustle-free for job search, meaning which provides
Placement assistance.
Especially when you are new to the education industry, having support by your side will guide you to have a better understanding of the nuances of job applications.
2. Focus on Skill Development
As we discussed the responsibilities earlier, you can see the primary teachers' needs to be skilled in
organization, classroom management
and
time management
and be
creative
and
resourceful
while dealing with young learners. The duties and responsibilities of a primary teacher are so much more than just completing the syllabus.
With the ongoing shift in the educational system, your role will be to act as a
facilitator
in the learning process. Also, knowing how to use
technology
must be at your fingertips. By enabling creativity, you can blend 21st century teaching skills and your unique teaching style to perform confidently in the classroom.
3. Don't Overthink It
When you are done with the training, try to get moving into the practical zone –whatever that might be! It is important to expand your horizon and think about gaining hands-on experience rather than waiting to land the perfect job. Getting out of your comfort zone must be a priority. Be open to working as an assistant teacher, substitute teacher, or even volunteer yourself in a formal school setting. No matter how much prepared you feel theoretically, unless you are presenting yourself in a school environment, there will always be uncertainty in your mind.
Moreover, this has to do with your market value as well. Building up your portfolio with various experiences and exposure amplifies the prospects of better opportunities.
Job Hunt!
In India, the prospects for a Primary school teacher are in both
Private schools
as well as
Public schools
. An extension of that role can also be fruitful if you are interested to open up your own
Coaching Centre
or even work as a
school counselor
with a qualification of Educational counselor or
Academic coordinator
for a primary section with expertise in curriculum development and administrative field.
In schools, a professional with expertise in the field, can earn from Rs. 30,000 to Rs. 50,000. Whereas, for a fresher, salary may range from Rs. 20,000 to 25,000. Also, keep in mind, the salary range varies from state to state, sometimes even differs from schools to schools as well.
Career as a primary school teacher
can be looked at as a lucrative opportunity if you want to begin your journey as a teacher. With the amount of holidays teaching job has always been an attractive option for many of us. Not to mention, a noble profession such as teaching always has a direct impact on society. Being able to raise children educationally is both privilege and rewarding which eventually becomes a transformational journey in a teacher's life.