2020 Updated Beginner's Guide: How to Start a Teaching Career with Pre and Primary Teacher Training
7th November 2020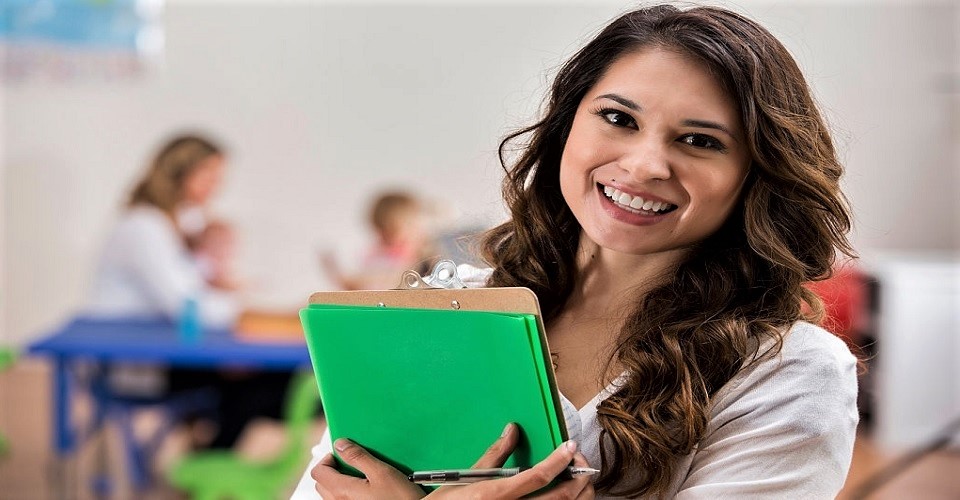 There is always a high demand for quality teachers across the world, especially in the pre and primary section of schools. The field of education welcomes those teachers who are passionate about learning and can share this love with their students or learners; irrespective of whether they are teaching kindergarteners about shapes and colours or instructing high school students about literature, writing, math or sciences. Teachers are the ones who actually help their pupils dream, aspire and attain their goals. They prepare young minds to believe in themselves and work towards the direction of their goals. Hence a teacher makes a great difference to generations of students and thus has the power and opportunity to impact humanity from a deeper perspective.
What Will You Learn?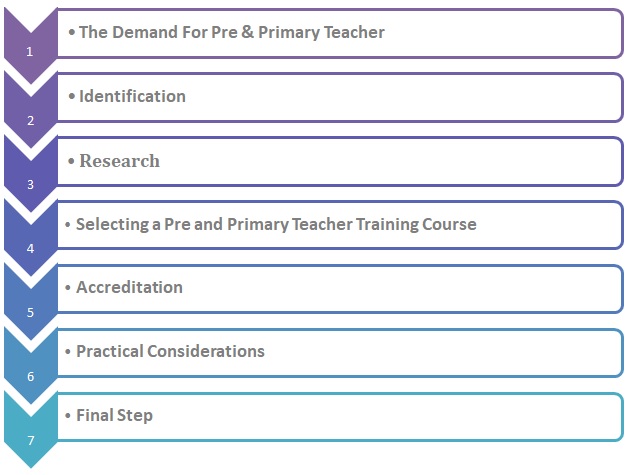 Teaching as a career choice is both gratifying and challenging. Teachers have the scope to make meaningful impact and play a positive role in the lives of young people more than anyone else. Apart from helping students to achieve academic goals, teachers have the opportunity to empower them with life skills. In case you are considering a career through which you can make valuable contribution to your immediate environment as well as make a tangible difference to society, then teaching is certainly a great option.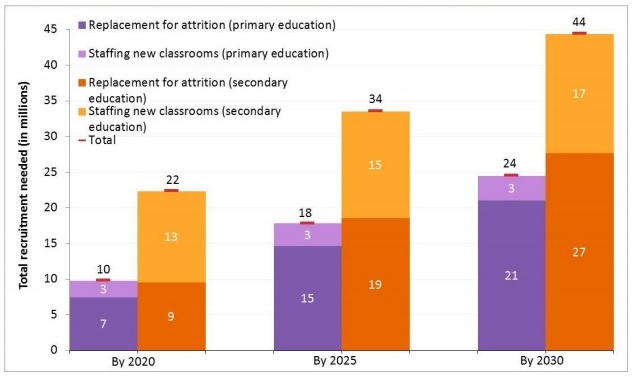 GLOBAL NUMBERS OF TEACHERS NEEDED TO ACHIEVE UNIVERSAL PRIMARY AND SECONDARY EDUCATION BY FIVE-YEAR INTERVALS: 2020, 2025 AND 2030
(Ref: https://bit.ly/3p5ROyR)
A teaching degree with specialisation in the respective educational level -– pre and primary, middle or high school, as well as subject specialism - allows one to become eligible to teach. This is the primary requirement everywhere. Though specific training may differ from school to school depending on that institution's needs, most require teachers with a minimum of a bachelor's degree; preferably with a demonstrated experience of having practised under the supervision of some experienced teacher or supervisor.
You may prefer to work with young children, elementary level students, middle school, secondary students or adult learners depending on which age and subject segment your interests lay. You may also want to specialise in special education needs. Sometimes paraprofessionals in the field of education, who are interested to teach, move into mainstream teaching after working in vocational or occupational areas. Salaries vary based on several parameters, such as your training, educational specialization, experience and location. Teachers with a master's or any other relevant advanced degree usually qualify for increased pay scale.
If you are keen to get started in teaching, these guidelines and information will help you to understand how to go ahead in becoming a teacher.
Identify Your Talents, Interest and Skill Sets
Before taking up a course of study or training in teaching, you must make sure that you have a good understanding of what the job or career in teaching truly involves. Most people believe that teaching is 'easy' and teachers enjoy a lot many holidays than others do in different professions. This belief is far from reality! Teachers spend most of their 'outside' class hours planning, organising and evaluating assignments. So you need to be prepared for this challenge. Moreover, teachers must have oodles of patience whether inside or outside their classrooms. Above all those who aspire to be teachers, especially teachers in pre and primary school settings must enjoy being around young children and have those personal characteristics that are in alignment with teaching young learners. Typically, teaching is a job that thrives on constant social interaction. Flexibility, adaptability, patience, fairness towards all, are some of the characteristic attributes of great teachers; not to mention risk taking and decision-making abilities.
Research Course Related Matters
There are certain matters such as certification requirements, types of courses available and the job scenario in your target area which you need to consider before taking a call about taking up teaching as a career. You can read up reviews and visit websites of institution offering pre and primary teacher training courses. Some have relevant issues discussed related to placement and job offers as well.
Volunteer in Schools and Non-government Organisations
One of the things that add value to any career path is to take up internship – voluntary, if paid is not possible. The experience is enriching and helps most times in kick starting one's career. So, taking up a support teacher's role or teaching assistantship, where one has scope to learn and experience first-hand, what the real teachers are actually doing in the classrooms, is perhaps priceless when it comes to understanding a teacher's job role and responsibility. Find a local school that encourages a fresher to volunteer and work as shadowing experienced teachers. Senior teachers are happy to share their experiences if you seek to learn from them. You can even volunteer to work as an assistant in a classroom. While shadowing, you will have the opportunity to be a part of varied classrooms and grade levels to get an idea of what different teachers do. You can also consider substitute teaching as a way to introduce yourself to the teaching profession.
Selecting a Pre and Primary Teacher Training Course
Once you have determined that teaching is what you want to do, you must next look for an institute that offers a good training course that fulfils your needs. Do a thorough research into teacher training courses. There are many institutes that offer certification, diploma and/or degree programs in teaching. Depending on the schools that you are hoping to apply for a teaching position, the requirement may vary. It is therefore pertinent to compare course/curriculum content of the best rated institutes. You ought to be looking out for courses under 'Pre and Primary School Teacher Training.'
Make Mindful Choices
Both with regard to selection of schools that you wish to work in and the course that you decide to pursue, make sure that you have done a good background check. Work environment and openness in any organisation, especially in learning situations are important parameters to be considered. Accreditation and course validation from quality control agencies is another critical aspect of making the right choices.
You may need to know the various types of training programs that are available and decide upon the one that meets your needs. In case you do not have a bachelor's degree yet, it may be useful to take up a program that will lead you to teacher training certification as well as help you to pursue a degree program. There are several schools that recruit teachers in the pre and primary section without a graduate degree – a teacher training qualification is mandatory though. However, it makes sense to complete graduation. Pay scales change with qualifications. In case you have a graduate degree, you might like to upgrade your professional skills with additional qualifications. It is useful to upgrade ICT related skills along with SEN – both extremely relevant in today's academic scenario. Most importantly, select that course which is appropriately accredited.
Accreditation
One of the important indicators of a good academic training program is accreditation. Ensure that the teacher training program that you choose is accredited to a recognised agency. This could be a local or national body or even an internationally renowned accreditation agency. To be accredited, a teacher training institute must have the requisite standard and quality of training dispensation to prove that it fulfils these high standards as well as the graduate teachers are of excellent quality. The institute that has valid and valuable accreditations is the one to go for.
In many countries and also regional states, sometimes a teaching program may need approval of the respective board of education for that country or state irrespective of national policies, under special regulations. Therefore, it is important to check this aspect as well before enrolling in a teaching course.
Some Practical Considerations
Narrow down your choices by considering logistics like location and cost of training including housing, food, commute and the like in case you have an outstation option which you find better than a local course provider. You might like to weigh out online courses as well. These do serve as good options if you are working or pursuing any other full-time course. You may be able to work out a better way of accomplishing your goal by enrolling in an online mode of study with the option of completing practical teaching if the institute supports that possibility in your local area, by providing formal letters of introduction for internship and professional teaching practice in schools. In case you are working and want to change the course of your career or even enhance your existing qualifications, it will be helpful for you to select an institute where the timing suits you; look out for evenings or weekend classes or online as suggested earlier.
Compare total expenditure on tuition fees and other related expenses with outstation or faraway locations and local course providers. Other related expenses may include boarding, food, and travel and associated costs. Check whether any financial aid or scholarships are available. Some teacher training institutes do offer partial scholarships to deserving candidates.
Be Aware! Read Reviews and Testimonials
Once you have decided which teacher training college you wish to enrol in, get down to reading up as much as possible on what students have to say about the course. There are reviews, online testimonials as well as video testimonials and so on, to help you confirm your decision further. These provide meaningful insights into the courses – content, delivery, learning environment, training team and post training services including placement assistance. Course counsellors should be open to respond to all your related queries in a transparent manner.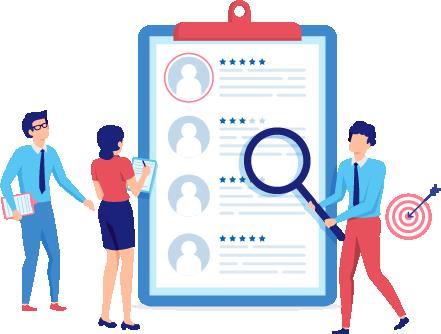 Courses Available for Pre and Primary Teacher Training
Eligibility criteria for applying for a pre and primary teacher training course would start from school leaving certificate and above. Normally most teaching certificate and diploma courses would accept applications from those who have completed high school education or equivalent qualification. Post graduate certification requires a graduate degree in any field. Courses are available in various modes of delivery depending on the type of training institute – in-class, online and distance.
It may be useful to check up on top-up courses that may be offered by some institutes, along with the main pre and primary teacher training course. For example, special needs, grammar, phonology, counselling young learners, creating teaching aids and resource management – these are very useful supplementary courses, that serve well as value addition to both knowledge and skills, so require to be teachers that make a difference.
Course duration may vary from one institute to the other. Mostly these may be from three months to a year and a half. Much depends on how the course is delivered and at which level. There are short duration full time diploma programs being offered by highly reputed teacher training colleges as well. These are completely hands-on, skill development based and practical training-oriented courses. It may be well worth your time to research these possibilities available in the market. At the same time, it is important to keep in mind which is the best fit for yourself depending on your preferences and career needs.
Getting Ready to Take Off
Following the steps discussed here should bring you closer to your goal of obtaining a teaching certificate or degree in becoming a pre and primary school teacher. Now you are ready to select that teacher training course that most suits your professional and also personal needs.
Remember that nothing can be more invigorating, fun and rewarding than being a young learners' teacher. To watch over them as you teach and facilitate their learning while they grow into sensitive, cooperative, kind, responsible and creative individuals in their own right is a wonder enough to keep you going on despite the odds that crop up along the path and journey of life as a teacher. You are the change maker. You teach and touch lives.
What are your considerations in order to become a successful pre and primary teaching professional in 2020?
Written By: Kuhurina Basu