ACT- TESOL Canada Collaboration
Introduction
Asian College of Teachers (ACT) has always stressed on imparting quality training and building academic excellence and in a bid to do so has tied up with TESOL Canada to provide the best in TEFL training. TESOL Canada's Mission is to develop the Professional Expertise of its Members in Teaching English to Speakers of Other Languages, Beginners to Advanced. Henceforth the above named is Admitted the Rights and Privileges belonging to this Membership and Accreditation given under the Training Board Seal. TESOL Canada is internationally recognized by Canadian Second Language Teachers Association CLTA, United States Distance Learning Association USDLA, TESOL USA, TESOL Quebec, Chartered College of Teachers U.K, Association of Accrediting Agencies of Canada AAAC, International Council for Open & Distance Education ICDE, International TEFL Association IATEFL, Ministry of Canadian Heritage & Culture – Language Portal of Canada, Ministry of Employment, Canada – Emploi Quebec # 0059212
About TESOL Canada
TESOL CANADA is Canada's largest recognized "Online TESOL Centre" and the Only Official Centre to provide standards and accreditations to Teachers of English TESOL, French TFSOL and Spanish TSSOL across Canada and worldwide. There are certainly other respected National and Provincial TESL Associations in Canada. However, TESOL Canada differs in its EFL & ESL hybrid and online teaching approaches both in Canada and abroad. In addition to ESL, TESOL Canada's main purpose is to research, design, and upgrade curriculums and standards in teaching 14 international languages. Additional certifications & memberships are offered to teachers of Arabic TASOL, Chinese TCSOL, Japanese TJSOL, Korean TKSOL, Portuguese TPSOL, Russian TRSOL, Turkish TTSOL, German TGSOL and Italian TISOL. Since 1995 TESOL Canada has maintained the highest standards of TESOL and TESL courses along with teachers' training programs in 14 different languages. While most Canadian TESL Associations concentrate within Canada, TESOL Canada is Canada's only centre that has expanded its programs globally.
Internationally TESOL Canada is an associated member of TESOL U.S.A., TESOL European Union EUTA, TESOL Asia, TESOL Middle East and TESOL South America. ALL ACT TESOL / TEFL Certificate, approved by TESOL Canada & TESOL U.S.A and certified through the Canadian Government." All ACT TEFL qualified students can also apply for TESOL Board exam through TESOL Canada to receive an exclusive TESOL Certificate certified and notarized by Canada and USA government.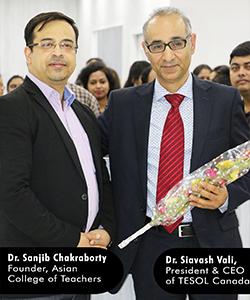 What does it mean to be "Accredited" by TESOL Canada?
TESOL Canada's Accreditation is a statement of quality, standard, effectiveness, and prestige among the highest credible educational institutions worldwide. To certify teachers for an international qualification, an external international accreditation by a reputable educational body is essential. ACT being accredited by TESOL Canada is recognized internationally by TESOL Québec, TESOL Canada, TESOL U.S.A, TESOL New York, TESOL Los Angeles, TESOL Asia, European Union Erasmus Mundus, International IATEFL, USDLA, ICDE International Distance Education, TESOL Latin America, and TESOL MENA Middle East.

You can find us as an accredited institution by TESOL Canada here: Click here to see our TESOL Canada accreditation certificate
Benefits of TESOL Canada Board Exam
Gives you a leverage over the other teachers as this will be an additional qualification
You can register your name as an accredited teacher by TESOL Canada (after successful completion of your TEFL program and opting for a TESOL Canada Board Exam) on their website which gives you an edge for your employability.Click here to see our registered alumni here
TESOL Canada Certificate can be Notarized, Apostle, Attested by Embassy of India in Ottawa or Washington
TESOL Canada Certificates can be signed and sealed by UAE Embassy in USA or Canada
Certificates can be authenticated by Canada - Ministry of Foreign Affairs and USA
Teachers can have access to their online library with huge resources
ACT- TESOL Canada Collaboration
What is an accreditation?
Accreditation is a quality assurance process that colleges, universities and educational institutions or programs undergo to confirm that they meet a strict and recognized set of service and operational standards. It is assessed by private, nongovernmental accrediting agencies that have been created specifically to review education institutions and programs. When an institution is properly accredited, you are able to gauge its overall quality without having to conduct a detailed analysis on your own.
ACT TEFL/ TESOL Programs accredited by TESOL Canada
120 Hour International 3 weeks TESOL/TEFL In-class Program
120 Hour International TESOL/ TEFL Certificate Program
220 Hour International TESOL/TEFL Diploma Program
280 Hour International TESOL/TEFL Advance Diploma Program
400 Hour International TESOL/TEFL Post Graduation Diploma Program
TESOL Canada President & CEO paid a visit to ACT Centres in Asia in 2019
President & CEO of TESOL Canada, Dr. Siavash Vali, visited Asian College of Teachers' Bangalore and Kolkata offices and also attended the Symposium on '21st century Transformational Teaching Methods and Standards' organized by Asian College of Teachers in Bangalore on 20th April, 2019. This was his first visit to India and he enjoyed being with the ACT staff members in both Bangalore and Kolkata and soaked in the collaborative environment. Apart from his presentation on 'Technological Advancement in Transformational Teaching, Web-Based Learning, and Online Teaching Employments' at Bangalore symposium which gave an insight into the role of technology in the field of teaching and learning, he was also a part of the convocation ceremony and felicitated the ACT graduates by handing over TESOL Canada certificates to the candidates who successfully cleared the TESOL Canada Board Exam. Dr. Vali visited ACT's Kolkata office on the 22nd of April, 2019 where he received a warm welcome followed by meetings with ACT CEO and Dean Dr Sanjib Chakraborty and engaging in interactive sessions with the sales and IT teams. His presence made a strong impact strengthening ACT – TESOL Canada association.