ACT Trainers
We, at Asian college of Teachers, have an outstanding group of trainers who impart high quality training and share knowledge and best practices to equip students with the latest methodologies in the field of teaching and allied areas preparing them for the global classrooms.
Ms. Kuhurina Basu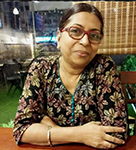 Ms. Basu holding M.A., M.Sc., has 30 years of teaching and 10 years of administrative experience in Mumbai, India and London, UK. She has been Master Trainer and Centre Head for the Cambridge International Diploma for Teachers and Trainers in Navi Mumbai and has also served as ESOL tutor, mentor and administrator at East London Business College, London.




Ms. Anamika Mukherjee
Ms. Anamika is a senior teacher trainer at Asian College of Teachers (ACT) and has 20+ years' experience in both Corporate and Academic sectors. She has worked extensively with some of the top corporate brands in both Operations and Training and handled prestigious projects at Wipro, Hewitt and Acclaris. She has been into TESOL/TEFL Training in both India and Thailand and has also been the lead Trainer for Learning and Development Programs.
Ms. Sudeshna Guha Thakurta
Ms. Sudeshna is a member of the Training and Academics division of Asian College of Teachers and conducts Learning & Development sessions and TEFL courses. She has completed her Bachelor of Science in Advertising, Marketing, Sales Promotion and Sales Management. She has been a Corporate Process as well as Communication Trainer and Quality Analyst with substantial training experience of 14+ years in Customer Relationship and Refresher Orientation for organizations like HSBC, ITC Infotech and has worked with Aviation companies as well as has experience in the Hospitality industry.
Ms. Rimpa Ghosh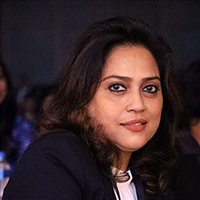 Ms. Rimpa holds B.A in English from the University of Calcutta. She has done the 120-hour in-class TESOL program and is also certified IELTS trainer. Her areas of expertise are Communicative English, Early Childhood Education, Experiential Learning, Leadership Skill Training and Mentoring. She has facilitated a variety of training programs across mid and senior levels.
Ms. Aditi Ghosh
Ms. Aditi is an English major from the University of Calcutta and a certified SEN trainer with 16 years' experience in the training field. She got trained in TEFL in-class program from Asian College of Teachers, Kolkata and successfully cleared the TESOL Canada Board Exam as well. Aditi stands tall and strong with an extensive experience in training adult learners as a professional language and soft skills trainer.
Ms. Debalina Chakraborty
Ms. Debalina is a TESOL/TEFL and teacher trainer at Asian College of Teachers. A language enthusiast and an avid traveller, she holds a double Bachelor's Degree in International Hospitality Management with Language and Intercultural Communication from the Edinburgh Napier University, Scotland. Being raised in a multicultural and multilingual environment, she grew an interest in knowing the nuances of different languages and language learning and language teaching always remained as her forte.
Ms. Ruchi Kumari
Ms. Ruchi is part of the training division at Asian College of Teachers and has been conducting training sessions in different areas of teacher training. She holds a Masters in English Literature from Ravenshaw University, PGDM in Sports Management from NIEM Pune and Diploma in Technical writing from Technowrites Pune.
Ms. Ashika R Chandni
Ms. Ashika has been a trainer with Asian College of Teachers since 2018. She is a TEFL Graduate and is very passionate about languages. As a TEFL trainer at Asian College of Teachers, she deals with adult learners who are very challenging but she considers it to be hugely rewarding and enriching.
Ms. Sukanya Barman
Ms. Sukanya is a TEFL/TESOL trainer with Asian college of Teachers. She holds an MBA in HR from Bridge School of Management, TEFL certified and also IELTS certified from British Council. She has been a participant at CELTA workshop program at British Council.