Tips to Handle an Overcrowded Classroom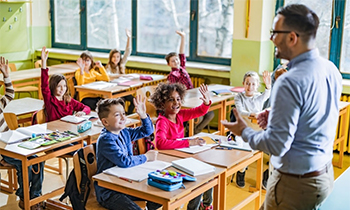 Nowadays, the classroom-overcrowding has deplorably become the new normal and it is also one of the biggest problems that schools as well as teachers are facing, be it online or off-line. The 50+ or more learners like class situations make quality teaching much more challenging, as teachers are frequently stuck with way too many students.

Apart from the difficulty of unavailability of equal education for all, one of the biggest problems in the education sphere is overcrowding. This already has resulted in damaging effects for both the teachers and the students.

Nevertheless, it's a challenge, but it is possible to make it work! There are some helpful classroom strategies that may help even the most jam-packed classroom situation into the conducive learning and growth environment.


Manage successfully an overcrowded classroom:

Use the Space Creatively

Well, you will agree with us that the most difficulties faced in overcrowded classrooms are logistical. Try to avoid putting all the necessary instruments and materials all in the same place. Instead, spread the used items evenly. The flexible seating also can really assist to alleviate numerous behavioral issues among learners.

Avoid putting necessary tools and materials all in the same place. We also suggest you create a peer-to-peer assistance network inside the classroom as you won't be able to take care of the needs of every single student in your large class.

Learner-centered Programmes

A lot of students mean a lot of work to measure. You can instill the designing workflows and workflows that are completely student-directed, have clear demands, and allow for self-assessment. You can also use the central time as an opportunity to run distinguished and small-group educational sessions.

Prepare a differentiated list of projects, activities, and assignments that target information and standards-based purposes. Incorporate self-assessments activities to assess so that you keep the whole class busy as much as possible. This can also help to close the feedback loop for students.

Flexible Grouping

As a large and overcrowded class size requires greater student freedom, think about how you want to group students for specific lessons. If students are not engaged effectively and if the work is either too challenging or too boring, then classroom management will become an issue for teachers.

Hence, use flexible grouping as it keeps students working on tasks that are just accurate for them only, and it keeps you in touch with their individualist needs also. Try to keep your lessons short as it's all-important to be strategical about how you structure the instructions.

Establish a Connection

Well, understanding and knowing your learners is a lot more challenging, especially in larger class sizes. Because of overcrowding, the big classrooms affect the relationships between students and teachers. We understand the fact that it is difficult to connect to each one of your learners, hence try to find new ways to set up a connection with them. By doing this regularly, it will enable them to trust you more and help you know their requirements better.

Collaboration

Well, sometimes students need help from someone else. Studies have proved that it is beneficial to allow students opportunities to turn to each other for help and support. You may teach learners how to talk to each other in decisive and learning-focused ways. If technology is available in your class, allow learners to work together in virtual space if the physical space is hard to come by.

Just because a classroom is crammed with capacity does not mean that learning has to suffer. The teachers must be extraordinarily organized, trained and well-prepared every day; an overcrowded class needs more monitoring than a smaller one. The lesson pace must be fast and teaching style unique and full of interesting activities to keep the learners' attention towards the lessons.

At present, education is an inaccessible right for millions of children and young people around the world. Just remember, great teachers can discover ways to enhance growth even in the most challenging classroom settings. You can develop your skills and practices through various teacher training certification courses. Also do remember that your attitude is the most important factor here and just because a classroom is overcrowded, it doesn't mean that productivity has to suffer.