How Do Nursery Rhymes Help Children's Progress?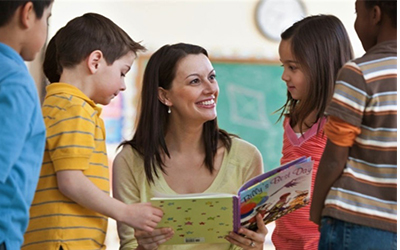 Despite the fact that the development of nursery rhymes can be followed back to the mid 18th century, it has advanced over time eventually. The nursery rhymes are a noteworthy strategy of captivating the minds of the small kids with literacy. It helps the young learners to learn language construction with cognitive development.

By understanding the importance of these, different internationally accredited teacher training institutes are preparing the teachers for 21st-century instructive world with consolidating the nursery rhymes creatively. Nursery rhymes also help in teaching moral principles to children. However, their acceptance seems to have declined in time, even though they are an outstanding method of having fun with children and developing their brain.

In the present-day times of technology and advancement, nursery rhymes still hold a place of importance in the beginning stages of learning. Here, we should observe that sound is one of the main components and an effective tool in a rhyme. As a result, most of the nursery rhymes are supportive in teaching the guidelines of combining sounds into words, rhyming and sound repetition.

Wikipedia defines rhyme as "a repetition of similar sounds (or the same sound) in two or more words, most often in the final syllables of lines in poems and songs. Another definition: "A rhyme is a repetition of similar sounding words, occurring at the end of lines in poems or songs. A rhyme is a tool utilizing repeating patterns that bring rhythm or musicality to poems."

What other advantages do nursery rhymes have so that it can be utilized as an effective tool of teaching?

Nursery rhymes give kids the possibility to learn about correct voice pitch, volume and language rhythm. They additionally get to learn new language disparities.
These also help to develop inferencing assistances, both with encountering new words and in reading grasp.
They are also important for the language acquisition and help with speech progress.
Nursery rhymes initiate new vocabulary and words.
For developing the phonemic awareness, nursery rhymes are necessary.
Nursery rhymes develop the listening skills.
They advance spelling skills.
These also develop children's imagination power.
Do you know children can learn social skills from the rhymes?
Rhymes are a great way to teach literary features to the young minds. Be it onomatopoeia, alliteration, or a rhyme, teaching can get fun!
An understanding of narrative movement, is fundamental for kids to be able to follow, read and understand any story.
It also helps parents and primary caretakers familiarize abstract concepts to their children.
Tips to make nursery rhymes interesting –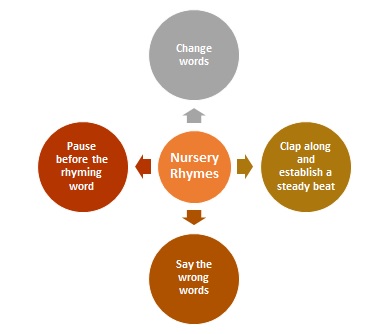 Say the incorrect words and let your kids correct you!
Clap along and start a steady beat while singing the rhymes.
Change words (like the names) to make your own altered rhyme.
Pause before the rhyming word and boost your learner to finish the line on its own.
Consequently, introducing the idea of rhymes at an early age is important for the appropriate and viable development of any schoolchild. When a 21st-century teaching professional read nursery rhymes to his/her young learner, he/she is telling the learner a story. Young learners have an inquisitive mind and learning rhymes can quench their enthusiasm to some bit.
Children who can recite rhymes properly on a day to day basis develop sharper memory than their peers. A skilled nursery teacher who is creative and adaptable in child development has a long and lasting impression on his/her students. This really is a matter of concern as the stepping stones of the young minds into the world of knowledge can become mayhem for the parents alone.
So, are you a fan of nursery rhymes, or do these rhymes help in managing your classroom? We'd love to hear!