Updated WHO Guidelines For Daily Screen Timings For Kids Under 5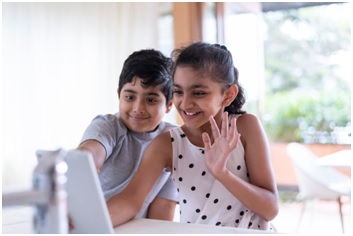 Children need to sit less and play more in order to grow up in a healthy way. Nevertheless, with the emergence of the global pandemic, education went on digital mode completely. Hence, virtualscreens are everywhere and monitoring a child's screen time can be challenging. To keep children healthy, the World Health Organization (WHO) has released its recommendations.
New WHO Guidelines
Here are WHO's screen time recommendations by age:
1. Infant (less than 1 year of age): Screen time is not recommended.
2. 1-2 years of age: No screen time for a 1-year-old. No more than an hour for 2-year-olds, with less time preferred.
3. 3 to 4 years old: No more than one hour.
WHO Director-General TedrosAdhanomGhebreyesus said, "Achieving health for all means doing what is best for health right from the beginning of people's lives. Early childhood is a period of rapid development and a time when family lifestyle patterns can be adapted to boost health gains."
Mainly, children under five must spend less time sitting and watching screens.
The Problems With Screens
Too much screen time will lead to a of serious health issues and has been connected to:
• Obesity
• Insufficient sleep plans and inadequate sleep
• Behaviordifficulties
• Delays in language and social skills growth
• Fierceness
• Attention problems
• Less time learning
• Kids are less likely to have the good motor skills which are essential for writing
• Psychiatric disorders informed
• Vocabulary, communication skills and eye contact are compact
• Creativity also suffers
• Attention, decision-making and cognitive control are also reduced
• A premature thinning of the cortex based on brain MRIs
Children younger than age 2 are more probable to learn when they intermingle and play with parents, siblings, along with other children and adults.
Screen Time Rubrics
Replacing long controlled or sedentary screen time with more active play is crucial. Make sure children get enough good-quality sleep.Activities like reading, storytelling, singing and puzzles, is very significant for child growth.

Always preview programs, games and apps before letting your child to view or play with them.Use parental controls to block or filter internet content. Find out the various interactive options that engage your child rather than pushing and swiping or staring at the screen.

Also, avoid fast-paced programming and remove advertising on apps.
The Bottom Line
Dr. Glen SteeleO.D., professor of pediatric optometry at Southern College of Optometry in Memphis, Tennessee said, "When an infant sees a parent looking at an object and follows their gaze to that object by 12 months of age, they will be able to identify 335 words by 18 months of age."

Always try to encourage unplugged and unstructured playtime. Diploma in Early Years Care and Education will help you massively. Talk to your child or your student and help him or her learn from them.Also, by applying the recommendations in these rules throughout the first five years of life will underwrite to kids' motor and cognitive growth along with lifelong health.