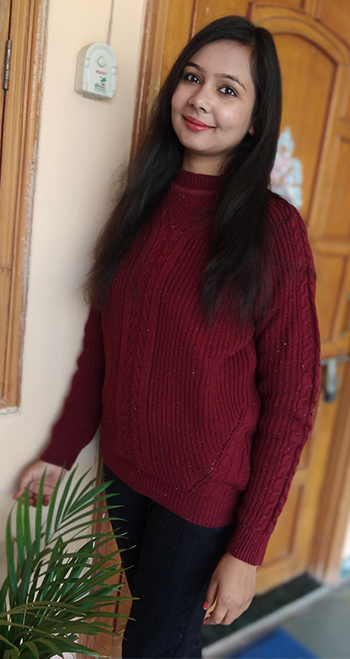 Tanushree Shrivastav
Course done:

TEFL 220 Hours
Placed in:

Chandigarh University

Tanushree always had an ardent liking for social and cultural evaluations, and languages. Consequently, she always scored grades above 90% during her Hindi and English language examinations. At the same time, her grand mom and mother were both teachers, which enabled her to always relate with and develop a fascination for teaching.

In particular, Tanushree had an inclination towards teaching the English language. She had profound love for the English language, which pushed her to go ahead with a master's degree in English literature, despite attending an undergraduate program in B.Com. In fact, there was a point in her journey when she was preparing for her exam in financial management and entrance exam for her MA in English Literature at the same time. This challenge further strengthened her ties with the English language, and she went on to partake in a master in English Literature from IT college in Lucknow.

During the course of her master's degree, she became an avid reader, and also eventually taught English literature as a subject. As her career in teaching flourished, Tanushree came across ACT's TEFL program. She was specifically intrigued by the inclusion of 21st century teaching techniques in the curriculum, and the aspects of teaching and leadership that was also incorporated. Moreover, she wanted to enhance her English language teaching skills since her background was mainly in literature. ACT's program exposed Tanushree to a range of language teaching methodologies and pedagogies. Interestingly, upon completion, she got placed as a soft skills trainer and English language instructor at Chandigarh University. Tanushree maintains that she never joined ACT's course to go abroad, but to secure a strong role. Likewise, Tanushree always aspired to become a leader, and she claims that her desire was fulfilled.