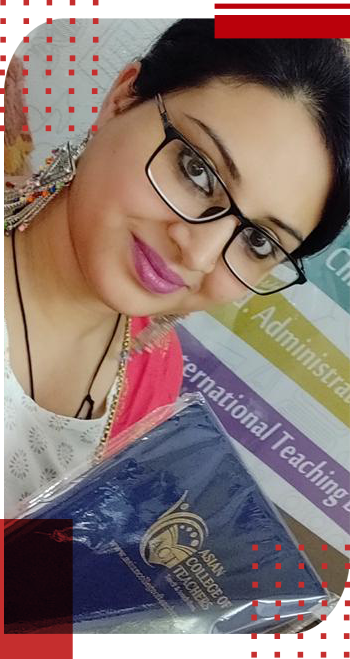 Ravneet Kaur Brar
Course done:

120 Hours In Class TEFL
Placed in:

Zee Learn Limited
Location:

Bathinda, Punjab

Despite belonging to a family of grandmothers and aunties who were teachers, Ravneet herself had never really thought of becoming a teacher. However, her journey in teaching and training commenced when she shifted to Punjab after her graduation.

Upon reaching Punjab, she realised that IELTS tests were extremely popular in the state, and the demand for IELTS teachers were hence noticeably high. This convinced Ravneet to look for, and eventually secure an IELTS teaching job as it was paying very well. She worked as an IELTS trainer for two years, from 2017-2019.

Although the pay was high, Ravneet was not very satisfied with the long working hours, and was thus searching for something more flexible. Subsequently, she considered the option of school teaching, which happened to offer a flexible schedule, and more holidays. During the course of looking for a school teaching job, Ravneet learned that most of the schools required B.Ed. graduates. However, since she did not have a B.Ed. degree, Ravneet realised that TEFL was another promising alternative.

Soon she got to know about ACT's TEFL program from one of her friends, and both Ravneet and her friend got themselves enrolled in the TEFL program. Within a few months after completion, Ravneet got a job offer from a school, wherein she was expected to operate as a relationship manager. The schools also proposed that she needed a certificate in early childhood care in order to get better opportunities in the school. Consequently, Ravneet also signed up for ACT's ECCE course. Currently she is working in Zee Learn Limited, and is thoroughly enjoying her experience.

For someone who never planned to become a teacher, it seemed like her family's inclination towards teaching ultimately caught up with her!