Is Classroom To Corporate The New Future Of Education?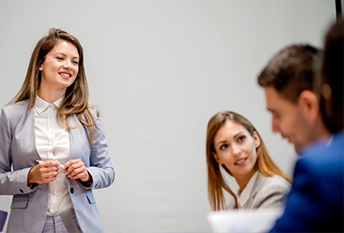 One should know that teaching in a classroom is not similar to teaching in a corporate setup. Teaching in the classroom is sure to give you a scholarly feel and the focus in a classroom setup is all about memorizing vocabulary, conjugating verbs, and conducting quizzes to check your skills.

Although, teaching a language in the corporate world is not similar, most of the language learners have to go through the same stages at one point of time or the other and teachers should be accordingly prepared. You can find most of the professions expect their employees to possess certain kinds of skills, be it soft skills or technical expertise that can be acquired either in a classroom setup or through experience.
So… now the question is how can you take the leap from teaching in a classroom to being a corporate trainer?
Corporate training is not all about having public speaking skills or conducting an icebreaker activity but way more than what you can think. Here are few factors that you need to keep in mind to take that leap after teaching by starting your career as a corporate trainer.
The baby step
You do not require any formal degree to teach in a corporate sector. People from any education background having the required skills and aptitude can become a trainer. Most of the people who are in this line of work already have experience in teaching.
Maturity and fixed objectives
The objectives of trainers are different from that of teachers. They have a different client base with a different set of expectations. Learners in a corporate setup tend to be more mature, not only age-wise but in other aspects as well. Their motivation to learn English is not similar to that of a typical high schooler. Their enthusiasm to learn the most communicated language in the world may arise from their need to meet business targets: a desire to handle English-speaking clients, or the need to communicate with colleagues and management located in various parts of the world.
Strong and serious content
If you have developed your English speaking capability for business needs, phrases like 'signing the dotted line', 'getting the green light, 'raising the bar' and so on. Language learners tend to look for temporary solutions that might make them sound knowledgeable. Learners who possess basic skills need to brush up their speaking skills to share their career experience and field of expertise. However, they are the ones who are looking to learn practical vocabulary that might come to use in the workplace.
Drive your learners
When your target learner belongs to the corporate world, English teachers need to prepare themselves in a manner to attract and further stimulate a more professional audience. In spite of a professional approach, ice breakers and less challenging warm-up activities are still important to start a lesson and make the learner comfortable.

Both young and adult language learners who are enthusiastic or invested like the satisfaction of a top score on a quiz too. Moreover, in a corporate setup, you are free to create your own 'syllabus'. It should just be interesting and appealing enough to keep your audience engaged.
Concluding Thoughts
Thus, teaching English to adult learners in a corporate environment is as exciting as it might sound. It is quite demanding and very different from teaching in a classroom within the traditional education system. However, teaching in a corporate setup will help you step out of your daily comfort zone and take bigger challenges in your professional field.

So, if you are an existing English teacher looking to take a leap into the corporate world, learn about the requirements and start preparing yourself accordingly. You can also enhance your teaching skills by enrolling in TEFL/TESOL Courses with specialization is Business Learning and set your foot in the corporate sector confidently.