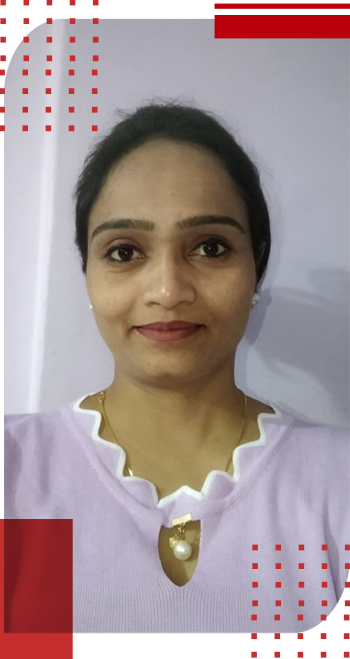 Gulshan Samson
Course done:

Online TEFL
Placed in:

Ridge School, Kurnool Andhra Pradesh
Location:

Stays in Mumbai

For nearly seven years, Gulshan had been working for corporates such as the TATA Consulting Service, wherein she was responsible for handling international calls with clients from countries such as the USA and Australia. Prior to her marriage, Gulshan used to teach at the senior KG level, and hence had already established a love for teaching. However, the lack of attractive packages kept her from pursuing a teaching career, and tread into corporates instead.

After seven years of steering a corporate career, Gulshan finally felt that she had fulfilled all her responsibilities, and decided to finally seek what she truly enjoyed, teaching. Consequently, she attained a bachelor's in Education degree, started teaching at Ryan International School, Mumbai, and then went on to teaching both ICSE and CBSE students in a range of renowned schools.

Interestingly, Gulshan shared that she yearned to become an English teacher, was driven by her 'pathetic' experience with English grammar during her school days. She claimed to be bad at grammar, and always struggled to comprehend concepts such as nouns and tenses. It was partly the urge to overcome this weakness, that Gulshan chose to get a firmer grip on English grammar, and eventually teach it as she did not want her students to go through what she had.

Along the way to her teaching career, Gulshan came across ACT's TEFL program, and decided to tighten her English teaching abilities by obtaining a deeper understanding of how to handle language teaching in particular. With knowledge of effective ways to teaching English, and plenty of teaching experience, Gulshan's teaching career took an exciting turn, and she was finally placed in Ridge School, Arunachal Pradesh, as an English teacher for grades 6 and 7.

ACT is honoured to have played a facilitating role in Gulshan's career, and wishes her all the best for her upcoming journey.