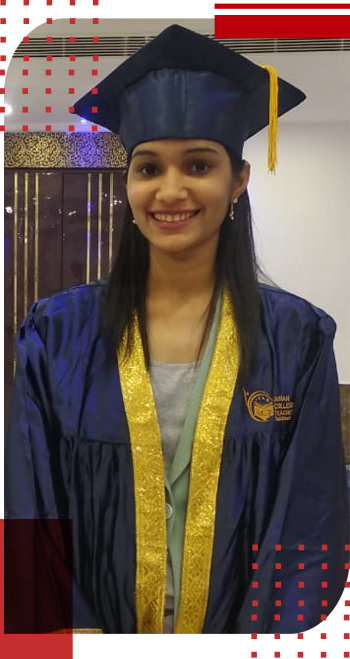 Glady Akshal Keziah
Course done:

TEFL
Placed in:

Remo International School as a Montessori Teacher, Chennai
Location:

Stays in Chennai

Glady, a former ground handling agent in Chennai's airport, is now a successful teacher in one of the renowned international schools in Chennai. Teaching has always been one of her greatest passions, and since childhood, her heart and soul were always drenched with the urge to become a teacher. Hence, after graduating with a bachelor's degree in English, she had decided to pursue her passion.

However, her lack of teaching experience and qualifications made it nearly impossible for her to find a teaching job. Nevertheless, with sheer persistence, she decided to take up a job at the airport and save up, while she looked for other teaching opportunities. Finally, the golden day arrived, and she came across the TEFL course offered by Asian College of Teachers. She was very impressed with the course content and the job opportunities offered by ACT, and deduced that this could be the start of a new phase in her life. Her struggle to survive and save up was ultimately going to observe some success.

In the early stages of the TEFL program, she felt very nervous. But gradually, she participated in practical teaching activities, and learned the skills and knowledge required to become a successful teacher. By the end of her TEFL journey, Glady claimed to become a very confident and able person, who managed to successfully handle job interviews, and eventually end up with a teaching job in one of Chennai's prominent international schools.

Although she had to answer many questions stemming from concerned friends and relatives who always thought that the airport industry offered her a secured job, her love for teaching still won the battle.

Asian College of Teachers is proud to have Glady as an alumnus, and profoundly thanks her for sharing her inspirational journey, as we believe that her story can inspire so many other aspiring teachers to take a great leap in their careers, and pursue their dreams to become a teacher.