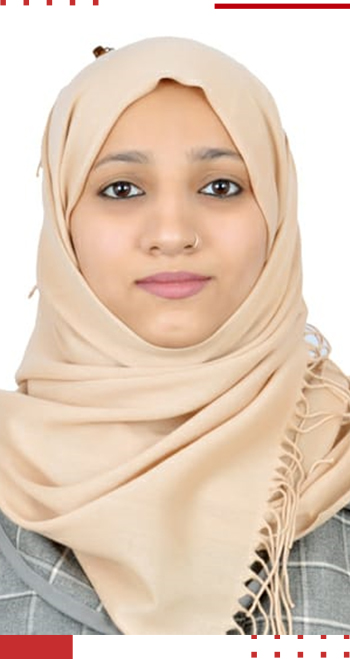 Bushra Memon
Course done:

120 Hour TEFL Inclass
Placed in:

Planet Spark as a Public speaker and creative writing coach

Born and brought up in Mumbai, Bushra always had a liking for corporate training. In fact, during the early days of her career, she wanted to be corporate trainer. However, since a young age, Bushra held a special love for the English language, and for children. This drove her to consider a career in English language teaching.

In order to accomplish her dream, she completed the in-class TEFL program offered by ACT, and kept hunting for jobs. Finally, the first breakthrough following her consistent hard work happened when she manifested an outstanding performance at Planet Spark.

Bushra only had experience in home tuition, which meant that she had to work harder that she was capable of being a successful teacher in a proper institute. Her love for children and her resilient spirit propelled her to perform excellently at the initial test run demonstration of Planet Spark.

Bushra recounts that her first class had 9 kids in Egypt, and her experience with ACT enabled her to offer quality teaching, which ultimately led her to be selected as a public speaker and creative writing coach at Planet Spark. Besides, Bushra also recently got selected as a part- time IELTS trainer at Cambridge Institute in Mumbai.

She is focused on becoming a successful English teacher in the near future, and does not want to look back. ACT is extremely proud to have had Bushra as one of its students, and wishes her plenty of success and joy.