Career As An Early Childhood Teacher
22nd March 2021
The first six years are being considered to be the significant period in a child's life. During this phase, kids nurture quicker and learn to move more rapidly. Moreover, the development also takes place quickly in terms of gaining the different kinds of skills, behaviors, attitudes, perceptions, the power of observation as well as the ability to think and to communicate.
Therefore, early childhood care and education is crucial and has been considered as the foundation of a child's growth. The early childhood teachers and educators work with children in their formative years - typically aged between 2 and 5. They familiarize them with the school setting and support them in growing various key skills that deliver the foundation for all future learning. The employment of early childhood teachers is expected to grow 8% from 2018 to 2028, quicker than the average for all professions.
Role and responsibilities of an early childhood teacher
A usual workday for an early childhood teacher may involve:

Encouraging health and security ideas
Helping children with their toileting and individual hygiene
Lesson planning to advance creativity and interest
Identifying the signs of developmental special needs
Comforting kids who are upset or feeling distressed
Detecting, evaluating and recording each kid's growth and learning
Teaming up with parents, other educators, health and wellbeing experts as well as early childhood intrusion specialists - speech pathologists and psychologists
Using storytelling, drama, music and discussion to develop language and vocabulary
Encouraging children to explore
Assessing the in-class and homework assignments
Employing a variety of educational methods
Planning out a curriculum that targets different areas of child growth
The early childhood educator or teacher does not simply pass the information and knowledge to children they work with, he/she performs more as a facilitator.
Qualifications to become an early childhood teacher
Now that you have understood what early childhood care and education look like, you would possibly be inquisitive, "am I eligible to be an early childhood teacher?" Take a glance at the different qualifications necessary for becoming an early childhood educator: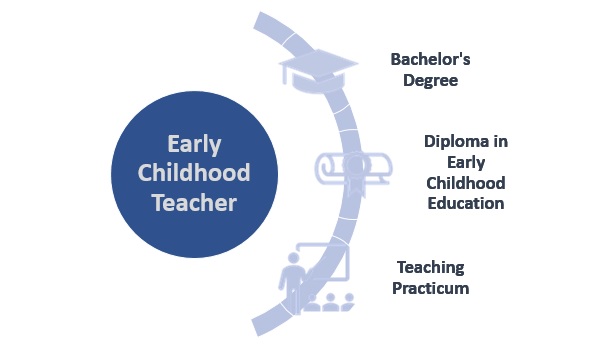 Also, you will have to take your state's mandatory tests for educators and teaching professionals, after that apply to your state's board of education for a teaching certificate or license.
Please note: Requirements may vary from school to school. Some need a high school diploma, while others need a college degree. Well, the majority of early childhood teachers hold at least a bachelor's degree along with online ECE courses.
Early childhood education workplaces
With early childhood education online course, you will get job opportunities in various sectors like –

Public Schools
Private Schools
Special Education Centers/Schools
Kindergarten Centers
Daycare Centers
In-Home Nanny
Elementary schools
Preschools
Education consultant
Family support worker
Health play specialist
Learning mentor
Play therapist
Social worker
Teaching assistant
Youth worker
Like the many other professions, early childhood education salary statistics is also dependent upon numerous factors.
Early childhood education is continuously evolving with more effective teaching strategies. Let's have a look.

To thrive in an early childhood education career, you need to be enduring, creative and love helping children learn along with excellent communication skills. The research and analytical skills with the aptitude to evaluate information is also another crucial skill. We would like to recommend as nowadays everything has become online and virtual, hence it is very essential to know how to integrate technology in your classroom.
If you want to work outside of your classroom, there are lucrative career aspects too:

School Counselors
School Librarian
Administrator
Curriculum Designer
Substitute Teacher
Academic Writer
Paralegal
Human Resources
Entrepreneurship
After-school programs and youth organizations
Now you have a better knowledge of early childhood care and education program and the array of potential careers that comes along with it. Committing to an early childhood education career means potential lifelong earnings.
Written By: Rimpa Ghosh