3 Instructional Strategies for Nursery Teachers to Plan Lessons Effectively
24th April 2018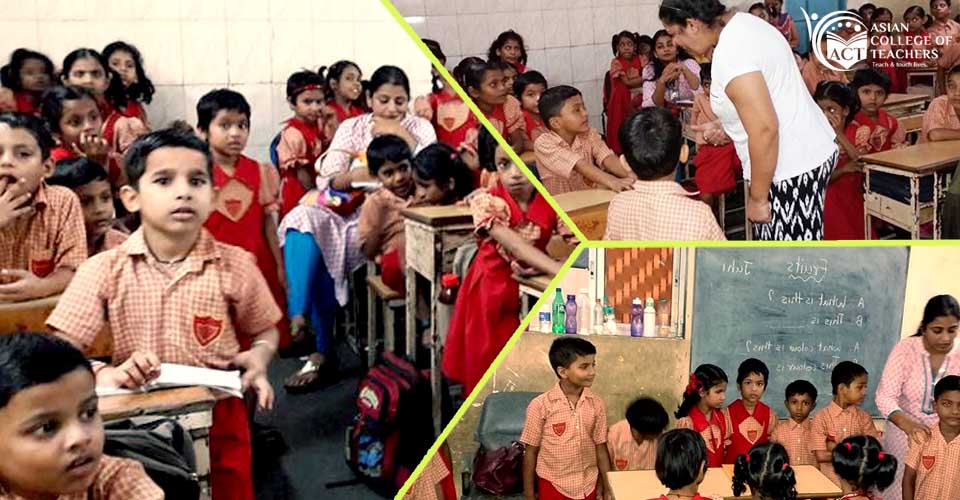 The modern way of learning underwent a whole lot of changes – starting from the input given to design classroom settings to that of the way lessons are planned by teachers before stepping into the class. All these activities are quite a challenge for aspiring teachers. Many find it difficult to plan their lessons in such a way that the lesson outcomes can be met properly. Various educational institutes who are offering nursery teacher training course in Bangalore have realised this to be serious. Hence after getting in touch with some eminent in-house curriculum developers who significantly been contributing to the e-learning and education industry have formulated necessary instructional strategies.

Why are instructional strategies important?
Marking their words, 3 relevant instructional strategies are stressed down. It is believed instructional strategies are tools used by teachers to facilitate an independent, strategic way of learning for students. Correspondingly learning strategies are used to aid learners in accomplishing the learner-oriented goals effectively. Also, by ensuring effective learning through these instructional strategies the entire teaching process can at best be cared. Therefore, selection of one instructional strategy becomes the key. Hence for appropriate lesson designing with these tools, both the class age group and mode of learning are considered.

How are instructional strategies developed?
By focusing on the age group, educators, say addressing the andragogical learners (adult-oriented learning) use different learning or instructional strategies from those dealing with pedagogical students (child-oriented learning). Accordingly, most of the teachers studying nursery teachers training course in Bangalore should quite obviously need to select appropriate learning strategies favouring the students as a part of the pedagogical learning method. Therefore, prior to the nursery mode of lesson planning, we have tried to brief on the three effective learning strategies.

Crossover Learning –
'World' for the pre-school students is full of fun and enthusiasm. This is as well integrated into their teaching and learning processes. Even the teachers are to share equal playful expressions to match up. Having said that, visual mode of learning, in modern times is favoured by many. It also prioritises every learner and cares their pace of learning individually.

Case I - With due respect to these differences, nursery caregivers should use art and crafts as their instructional tools for educating kids. Say, as a nursery child caregiver you would teach them a difference between ball and box, use these two objects and label it. Also to make them look completely different use vibrant colours – red ball and yellow box. Now remove the label and ask a 2-year old to identify the two objects. If she identifies them one at a time by pointing to the objects then the learning goal could successfully be achieved.

Benefits of this strategic mode - The method turned effective because of the following advantages:
Learning can adhere in informal settings as kids learn playfully.
A rapport can be established between children and the teacher.
As the kids learn in a playful manner it refines their motor skills – in the above example also the child has to use her eyes, mind, legs, and fingers.
It ensures both cognitive and social development of the child as a part of the learning goal.

Incidental Learning –
Use of technology has been a common thing in the education system today. Both at homes and in the playschool, educators are acquainting students with technology from their early days of learning. As a result, the concept of 'smart-learning' could no more be ignored. It is more evident with the dominance of e-learning industries where technology blended itself with the lesson plan.
Interestingly, even the toys look very style, not just in their outlook but the way it instructs kids or students to learn even when they learn in a playing mood is something to watch out for. Therefore, young working parents find it easier to teach their wards by using such play-to-learn toys.

Case II - Now, often you as a teacher can prefer to use visually appealing play-to-learn toy videos for teaching rhymes or preach them to wash their hands. Children will try to imitate from the cartoon character which will appear visually on their classroom LED screen. The moment this caricature starts singing and dancing, they will mock and soon wash their hands – which become a morally reinforced conditioning process.

Benefits of this strategic mode – Based on the second instructional strategy the following can be addressed,
Learning can be made possible in an unplanned or unintentional manner.
Ethical norms among children are conditioned in an unplanned manner and should remain permanent for the rest of their lives.
Use of technology-driven learning and this too ensure informal learning.
Remove the traditional curriculum based and teacher dominant learning.
Self-reflection is possible as children learn through imitation and the changing behaviour is reflected in the way they perceive the world.
Context-based Learning –
Furthermore, this very play-to-learn module also enables contextual learning which is processed through experiences. Also, educators or parents would find these play-to-learn toys best storytelling medium for many educational counsellors would recommend how effective storytelling is for learning.

Case III – Suppose if you are taking the kids out to the playground and engage them to play hide and seek, they are to follow some norms before you start the game. These norms would include them to hide within the encircled area and that they should not go too close to the water bodies (if any present nearby). Under such play mode settings, they learn to be very careful about each other. Also, they are to coordinate with each other constantly and accordingly a process of social bond is created. This further enables team building. However, what is the most crucial of all here is that they can explore nature. While playing within an open circumstance, they can walk, run, jump and see flowers, plants, herbs, creatures etc. Thereby learning and caring the greeneries.

Benefits of this strategic mode – Prior to the above case scenario we can relate the following advantages of this instructional strategy,
Interaction with the surrounding is possible here in this case.
Based on the real-life situations, they experience to learn something new which would favour in the lifelong developmental processes.
Team building acknowledges them to care and empathy each other if any emergency arose.
All these would automatically refine the motor skills and enhance the cognitive, emotional and social development of kids.
It is an effective learning design to make the kids play and learn the ground realities of life in a disciplined manner.
There are many other instructional strategies which we might explicitly discuss in the future. But if you also wish to know some other learning tips to teach young kids and mark best ways suiting professional development for teachers, you may read: 10 Top Tips for Teaching Children
Written By: Admin