Asian College of Teachers - Conferred As an Organizational Member of AICE
9th April 2018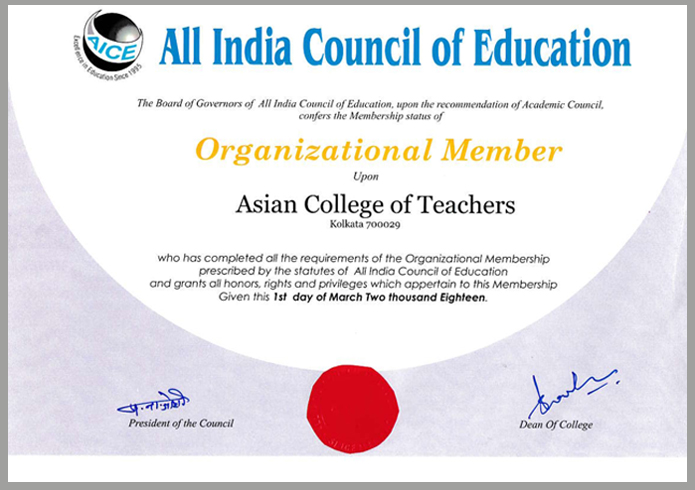 Every goal achieved makes an organisation grow and progress in a way that it impacts their achievements. Thereby leading to their continual improvements and accordingly creates a success story. Each success story shared has its own unmatched value. And Asian College of Teachers has championed itself as a leading teachers training institution in Asia. Let's unfold one of such success story that overjoyed them by getting conferred as the Membership Status of Organisational Member.

Conferring the Membership Status of Organizational Member to ACT:
Thinking too hard about when this conferring took place, who offered it and how this happened. As in understanding every event which conferred ACT with the Membership Status of Organisational Member.

# Growth that shapes ACT's teaching methods:
Truly, Asian College of Teachers has grown and progressed in more ways than one. They were constituent with their efforts.
Accordingly, they worked on implementing the latest techniques and methodologies.
This would aid them to prepare global educators which would further enhance the teaching spirits of facilitators, particularly when addressing the diverse class-settings.
Apart from these, they have also upgraded the learning methods by introducing newer programs which would yet again enable teachers to break away from the conventional teaching practices and adapt modern learning skills.
Teachers not only had the option to improvise their teaching skills but also came out with flying colours. They further shared that by using the inputs learnt at ACT they have managed to create an impact on the developmental process of children. All these combined together speaks volumes about Asian College of Teachers success mantra.

# Awarding the Efforts:
A distinguished global educational leader, Asian College of Teachers recognized as the best teachers training institution in Asia dedicated to producing the best of future global educators. Because of their efforts and improvements, the board of Governors of All India Council of Education, upon the recommendation of Academic Council, confers the Membership status of Organizational Member upon Asian College of Teachers, on the 1st March 2018.

* Who are the AICE?
The All India Council of Education (AICE) is India's leading recognised professional society devoted to the advancement of education. Some objectives and function of the statutory body includes:
The Council provides leadership in the vast and varied areas of education that is of direct importance to the national development and economy.
The objectives of AICE focus on advancing educational developments in all areas that are needed for the holistic achievement.
The AICE conducts and sponsors technical meetings, conferences, symposia, and exhibitions all over India, publishes technical journals and provides continuing education as well as career advancement opportunities to its members.

* How did they qualify?
Asian College of Teachers qualifies for this honourable membership status of Organizational Member, having met and completed all the requirements of the organizational Membership prescribed by the statues of All India Council of Education and grants all honours, rights and privileges which appertain to its Membership.

* Why are they worthy of this reward?
The globally recognised institution offers multiple teacher training courses in India for which they have earned a lot of repute.
Recently, they have also bagged the prestigious Skill Learning Award at the 8th National Awards on Excellence in Education by Indian Education Congress on 13th February 2018. This was for the second time in a row.
The first award came in the 7th National Convention on Business of Education when ACT was recognised for becoming the Best Vocational Education Institute of the Year - Teacher Training on Excellence in Education on 7th February 2017 in New Delhi.
These achievements prove that they have imparted education by providing the best of quality systems to achieve the highest standard and maintain student satisfaction. Therefore, Asian College of Teachers (ACT) truly deserves the Membership status of Organisational Member Conferred by All India Council of Education for showering the hard works and dedication over the years with precision and authenticity to give education the topmost position in the global platform.
Written By: Admin