Encouraging Children to Have a Safe Holi
27th February 2018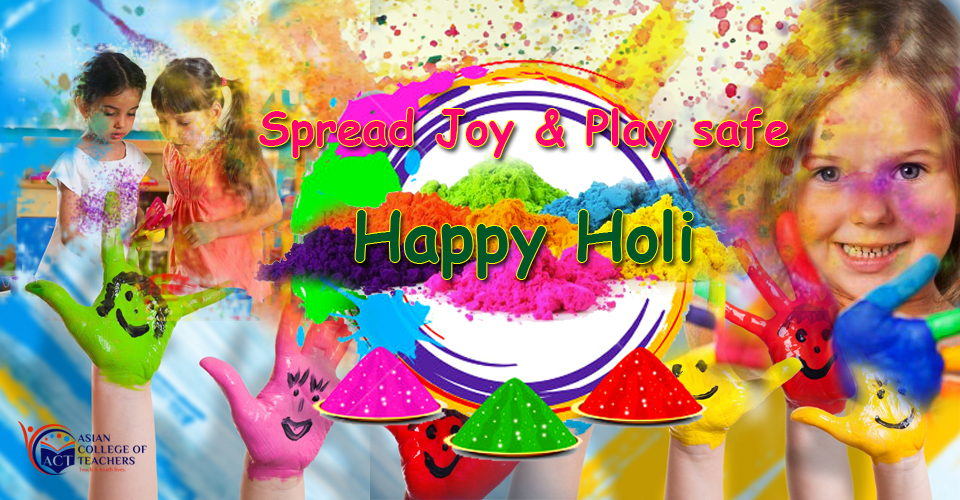 Life is always beautiful when it is colourful.
The varied implications of the festival of colours:
Holi (the festival of colours) represents the arrival of spring and the triumph of good over evil and the thanksgiving for good harvest. It is one of the famous festivals celebrated all over India and in other countries of South Asia with great enthusiasm.
A lively and youthful festival that brings about a feeling of fun, frolic and merrymaking, Holi is one time of the year, when children can come together and enjoy to their utmost desire. As a teacher with a teacher training courses India, you can enable them to learn about the feelings of unity, family & social values, love for nature.
However, amidst the riot of colours and fun, untoward incidents and accidents can occur which can cause harm to the children. Incidents of skin and eye damage, poisoning and injuries can dampen the positive spirit of the festival.
By following certain safety precautions, children can be encouraged to celebrate the Holi festival with uninhibited enthusiasm!
Keeping an eye on the child:
Educators trained with Pre Primary Teacher Training Courses in India need to keep a constant supervision on children playing Holi.
Focus on keeping them safe. Keep them away from getting into fights, hitting each other with water balloons and splashing watercolours on other children.
As a trained teacher advise them to respect other's wishes, and not force an unwilling friend to play.
Encourage the use of Non-toxic safe colours:
Traditionally the colours used in Holi came from flowers and herbs, but today they are usually synthetic. Encourage the children to use organic and natural colours made from herbs or flowers to play with.
Non-toxic, natural or herbal colours are always a safe choice as they do not contain any chemicals. The uses of these colours are softer on your child's skin and are easier to wash off.
Ask parents to make organic and natural colours at home by using flowers, herbs and leaves.
Encourage children to engage in safe and fun activities:
As much as water balloons can be fun to play with, when thrown at a person or other children can cause injuries to the skin, eyes and ears.
Ensure that the children do not put any colours in their mouth. Synthetic colours or powder, contain harmful chemicals and which could cause severe reactions such as vomiting and could lead to poisoning.
Train the children to keep their eyes safe from colours. If the colours enter the child's eye, help them to wash the eye with plenty of water. Ask them not to rub the eyes. If the child experiences any change in vision, pain or excessive redness of the eyes, immediately consult the doctor.
Encourage the child to wear full sleeved clothes and long pants to protect their sensitive skin. Add on a cap for good measure. The idea of covering up as much as possible is to prevent exposing the skin to toxic colours.
Be ready for any emergencies by keeping a list of emergency contacts ready, including those of your paediatrician, closest hospital and ambulance service.
Written By: Admin