With Potential to Achievement - ACT again bags the Indian Educational Award 2018
14th February 2018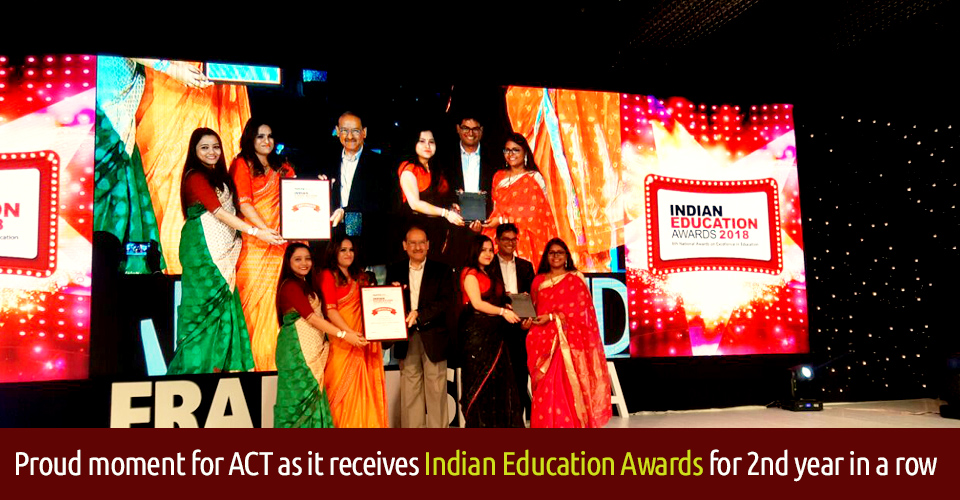 The Indian Education Awards are the most prestigious awards that recognize excellence in the education sector. The 21st Century education sector enhances the face of learning and knowledge excellence in teaching and learning through Indian Education Awards.
The core vision of Indian Education Awards aims to empower educational pioneers who have moved out of their specific domains to make effective differences in the field of education, pertaining to global standards and methodologies. The award recognises educational organizations who demonstrate exemplary values and best practices in learning and teaching in the 21st Century.
Indian Education Awards 2018 – the 8th National Convention on Business of Education, recognizing qualities and achievements in Education, has awarded Asian College of Teachers (ACT) on 13th February 2018 – Skill learning Awards –Teachers training
The award for the ACT is again another milestone that showcases the rigorous and significant high-quality teacher training programs transforming aspiring/ practising teachers into competent teaching professionals preparing them to confidently face the challenges of the global classrooms.
The recognition and award bestowed upon ACT by Indian Education Awards 2018, which was also awarded to ACT in 2017, only goes to ascertain the credibility of Asian College of Teachers as the leading teacher training education institution in Asia, building on its success stories, offering a wide range of exclusive tailor-made courses for teacher training programs.
It is indeed an honour for the ACT to be recognized consecutively for two years as an educational institution that in pursuit of consistent excellence, striving to impart training to teaching professionals who can develop skills and provide an atmosphere of positive learning globally.
The award conferred is a hallmark for the significant contribution Asian College of Teachers has been making in the field of teacher education over the decades.
Written By: Admin