Practical Implications of Early Childhood Education in India: Social and Emotional Learning
18th December 2020
The ongoing COVID-19 pandemic has considerably transformed the whole education system. At present, the e-books and digital content deliver the flexibility to learn at the learner's own pace from anywhere, anytime. Also, online learning generates an advantageous learning environment at home as well. Therefore, evolving with the needs of the K-12 environment is important to sustain in the current educational world. The early childhood education courses are developing future 21st-century teaching professionals with all the possible teaching strategies.
Well, research shows that 90% of the brain progresses in the first five years of age. The education provided at that period is known as the early childhood education (ECE). The advanced countries with high rankings in Edification usually focus upon early childhood development. Different studies have revealed that early childhood education is important in formulating children to succeed in the classroom by lessening their risk of social-emotional mental health problems. Therefore, parents need to value ECE plus its importance on their children as this allows the chance to shape a trusting relationship.
Advantages of Early Childhood Education
Well, quite naturally, the parents are often worried about the quality of the early childhood education programs available to their kids.

Early childhood education can help in significant improvements in children's learning and development practice.
Upgraded early childhood education assists numerous children in avoiding poor outcomes.
ECE helps in the persistent developments in getting better test scores.
Early childhood education provides children to get a better experience in their primary classes at school.
ECE develops good habits among the children.
Upgraded early childhood education also develops literacy and numeracy skills.
ECE improves the attention durations.
It encourages the holistic development of a child.
Demonstrating and instilling the significance of teamwork is also another benefit of ECE.
Well, the preschool is so much more than just playing! Nevertheless, the basic educational aids of preschool are tangible. Early childhood education is all about honing and moulding the holistic growth of a child which will ultimately shape the basis of a lifelong journey.
What is Social and Emotional Learning (SEL)?
Social and Emotional Learning (SEL) is a decisive dimension in the complete development of a child. This has remained mostly unrecognized in most of the education environment. It is a totality of a number of skills like –

Understanding different emotions
Managing different emotions
Preserving healthy relationships
Making socially accountable decisions
Well, social and emotional skills are transferable and SEL skills manifest children on how to manage different kinds of feelings and how to behave in different social circumstances. A full approach to education, SEL is the latest division of the complete child learning approach.
Let's take an example:
Let's take an imaginary situation, assume one of your student's friend snatches his/her color pencil during the class. Your student chooses to ask for it back graciously instead of hurting or fighting. In this case, your student recognizes and controls his/her emotion (anger as his color pencil was being snatched) successfully. Your student normalizes the situation to avoid conflict. As a new-aged teaching professional with ECCED training, you need to teach your students these kinds of behavior. It also should be nurtured and cultivated by children as well as adults.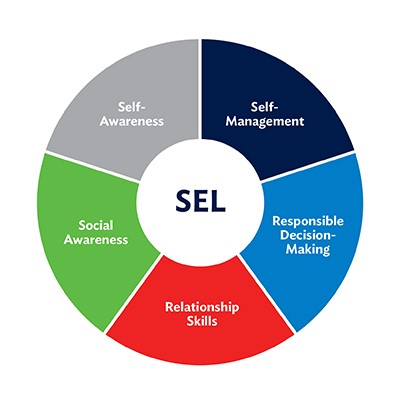 (Ref: https://bit.ly/3ray2Dk)
Generally, the SEL has 3 domains basically –

Here, the cognitive skills include different kinds of executive functions like - working memory, attention control, self-consciousness, planning, beliefs and attitudes that direct one's sense of learning and growth.
The emotional competencies empower one to identify and manage emotions effectively and understand others' emotions as well as perceptions.
Social and interpersonal skills enable a child to read social indications, navigate diverse social circumstances, resolve relational struggles, collaborate with others, demonstrate compassion and empathy toward others.
Schools are an important background for children's social and emotional development.
Organizing Background for Social and Emotional Learning
Well, a child's SEL assistances and the school framework aspects - both are being influenced by the teacher's social plus emotional skill along with pedagogical knowledge. The SEL skills progress in a compound classification of different circumstances, communications, and relationships.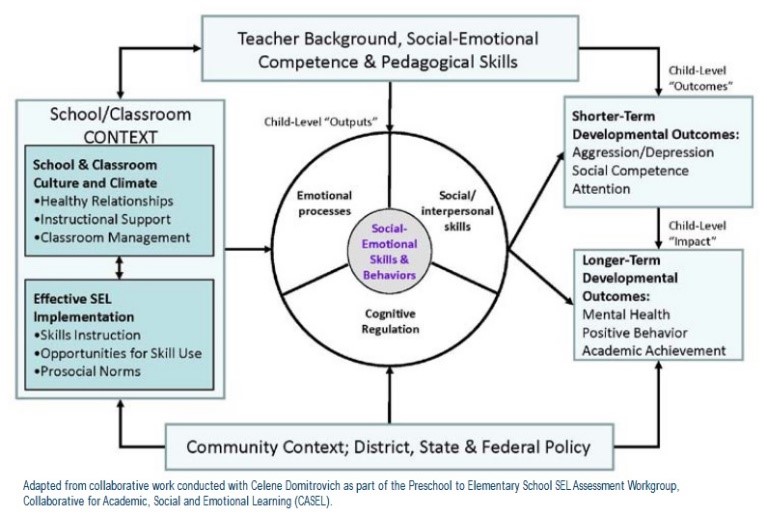 (Ref: https://bit.ly/34joKeH)
Important Features of an Effective SEL Program
Well, if we know the significant features of an effective SEL program then we will be able to cultivate an effective SEL program successfully. Here are the crucial characteristics of an active SEL program:

Sequenced learning activities that promote a corresponding and connected way to skill-development.
Types of active forms of learning.
Focussing on developing one or more social skills.
Clear about directing precise skills.
Implementing reliability and quality nature.
While online learning has clear benefits in this pandemic situation, we also need to emphasis on the absence of social and emotional learning (SEL) in education.
The Overlooked Significance of Social and Emotional Learning
Well, the National Education Policy 2020 (NEP 2020) acknowledges the importance of SEL. It stated that "the education system must aim to develop good human beings capable of rational thought and action, possessing compassion and empathy." The RTE (right to education) Act (2009) does not include children below 6 years under its support. However, it does include ECE and says, "with a view to prepare children above the age of three years for elementary education and to provide early childhood care and education for all children until they complete the age of six years, the appropriate Government may make necessary arrangement for providing free pre-school education for such children."
After all the recognition of ECCE by the authorities, there is still a break between the number of pre-schoolers and those enrolled in pre-schools. With a lesser number of skilled teachers, children are most of the time exposed an early age without a theoretical understanding of the subject. It eventually affects the learning aptitude of the children unpleasantly. Unfortunately, even now, parents think that their job is being done after paying their child's school fees (most of the cases). They need to comprehend that they are also a noteworthy part of the education process that the child is going through.
Major international organization UNESCO has taken active initiatives to promote the greater social and emotional development in students, teachers, as well as communities.
What Learning Problems are We Trying to Solve?
Well, undoubtedly poverty is a big problem and a huge number of children is persistently absent from school. Without positive and constructive involvements, this condition makes it much more difficult for students to learn. The lack of proper knowledge about the SEL and what it takes to shape assistances.
Another problem is the fiasco to deliver the full effectiveness and incorporation of the program along with the universally identical test culture. Communications challenges are also creating problems in order to implement an effective SEL practice.
How To Build SEL Skills in the Classroom?
Well, today's classrooms are progressively multicultural and multilingual with students from miscellaneous social as well as economic backgrounds. School is one of the prime places where learners acquire social and emotional skills.
Try to provide learning opportunities to practice and hone social and emotional skills by delivering the social and emotional development. These will give your students an opportunity to apply these skills in numerous situations. Deliver unambiguous lessons that teach social and emotional skills and then find the chances to emphasize its use throughout the day. You may include SEL instruction into content parts like English language arts, social studies, or math, etc.
Also, through the different interpersonal and student-centred instructional interactions, you can also naturally foster SEL skills in your students. The adult-student communications support SEL that eventually results in a positive student-teacher relationship. Moreover, safe and positive school cultures affect academic, behavioural, and mental health outcomes for students. Try to include the equitable discipline policies and bullying prevention practices in your class.
Conclusively, SEL can also be nurtured in numerous settings other than school. SEL begins in early childhood, therefore family and early childcare surroundings are important. The early childhood education courses developing the social and emotional learning among the 21st century teaching professionals. Social and Emotional Learning (SEL) delivers a groundwork for a safe and constructive learning environment to succeed in school, careers, and life.
Written By: Rimpa Ghosh