Making a Winter Day Special for Students
12th December 2017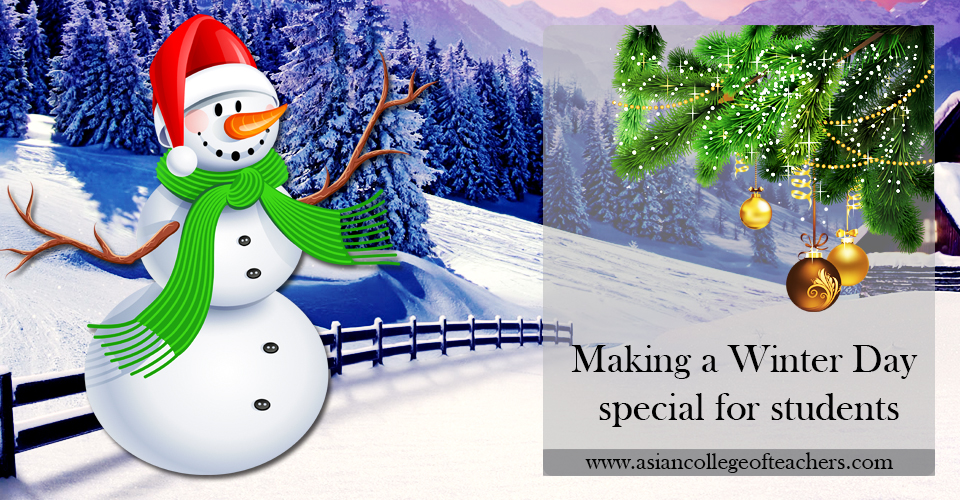 Finding effective teaching strategies to engage students including young learners during the winter months can be a challenging task for teachers, especially for those that live in areas where it can get very cold and dreary. As a teacher trained in Pre & Primary Teachers Training, there are a lot of ideas for involving the young learners in the winter season, including some great winter crafts, colouring pages and encouraging proactive indoor games.
Here are some ways through which you can make a winter day special for students:
Breaking The Monotony
If you have children who are seated mostly through the hours in the classroom, then your students can highly benefit from activities that enable to break the monotony. Breaking the monotony activities involve children to get up from their seats and be involved in games and other activities. So if you're looking for a quick way to recharge your students during the winter months, then a few quick brain breaks can do the trick.
Utilize Technology
Technology is the perfect way to keep students engaged when the weather is cold and you are stuck in the classroom all day long. This is especially applicable to children and students who are studying abroad in countries which get cold during the winters. For teachers who are trained to teach abroad through the International teaching diploma programs, focus on engaging the students with the latest methodologies for global classrooms. Studies show that enabling your students to embrace technology and incorporate it into as many lessons and activities that you can makes a winter day engaging for the students.
Get Students Up And Moving
Educators know that the more their students move, the longer they will stay engaged in their lesson.Exercise is wonderful ways to keep students engaged on a winter day. Research has shown that physical activity stimulates the brain. Therefore by implementing some type of movement into your lessons, your students will not only be happier but more engaged in the lesson as well. There are many ways that you can include movement into your lesson plans, the first being to use rotating learning stations. Another way to get students moving is to use the "Walk and talk" strategy, where students pair up to communicate with others.
Make Learning Fun
The goal is to really get students excited about learning, which teachers learn through the International teaching diploma programs. Enable your students to experiment in the classroom to make the winter day interesting and fun. Change the ways in which you normally do things in your classroom, and you will see that teaching will be fun. As the winter months progress, you gain more lighted hours. An exciting event is hiding a key element for your lesson in a box and lets students open it up during class, draw slips of a paper out of a bag to make choices in class, wrap books in wrapping paper.
Written By: Admin