10 Top Tips for Teaching Children
4th December 2017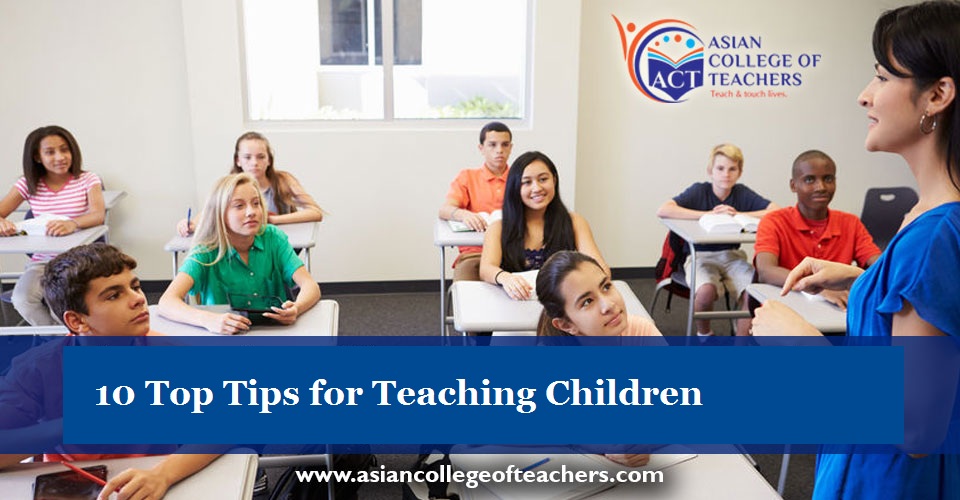 Elementary school children are the most gratifying age level to work with. Why? Because students at this age possess natural instincts like being cooperative, curious and they learn very quickly. A teacher motivates the young learners to learn and grow. The teachers have young learners which they can influence which are a major responsibility not to be taken lightly.
The foundation of education for children is given prime importance as that is the time their skills will be honed and knowledge instilled in them to carry for their life. To truly appreciate the duties and obligations of a teacher one must be adequately trained for the job. The aim of courses for teachers in India is to arm global educators who can develop the competencies and employ their skills in the field of pre-primary education.
Teaching children in the primary stage can be the most challenging of all professions. Nursery teacher training courses involve training in children's physical, emotional and social developments while stressing on the cognitive part of learning. Teaching young children is considered a challenging and functional area and the focus is on learning through play by providing an interactive learning environment.
A nursery school teacher plays a significant role in preparing children aged 5 years and has to constantly implement methods that boost the growth of the young learners. This is imparted through the courses for teachers in India that covers Pre and Primary Teachers Training. It is the responsibility of the teacher to facilitate learning and development through storytelling, play and games.
This course not only acquaints the teachers with the methodologies of teaching but are made aware of the support they can provide children for their active learning which will ultimately strengthen their emerging abilities.
10 Top Tips for Teaching Children
1. Enable children to understand some basic norms, which should be fair and consistent, clear from the first day of class.
2. Encourage interaction in the classroom. Start with getting to know the names of the students and allow them to communicate with each other. Talk to them. The more the interaction, the better the coordination between students and teachers.
3. Show your students what to do. Do not get into a forceful and detailed explanation. Just do. Just be. They will follow your lead.
4. Nourish trust between you and the students with each class. Through your actions let them know that you will never embarrass them for making a mistake in class.
5. Use eye contact to communicate your praise and disappointment.
6. Create well-planned, consistent lessons with a predictable format which gives the students a sense of security and balance. Students feel more confident if they know what to expect.
7. Always be pleasantly surprised when students interact with each other or you in English.
8. Reassure your students that you understand them and you approve of their attempts.
9. Show respect to the children and let them sometimes be the teacher.
10. Use communication as a prime tool to build their self-esteem.
Written By: Admin