Language and Story Telling - Integral Part of Early Childhood Teaching
31st October 2017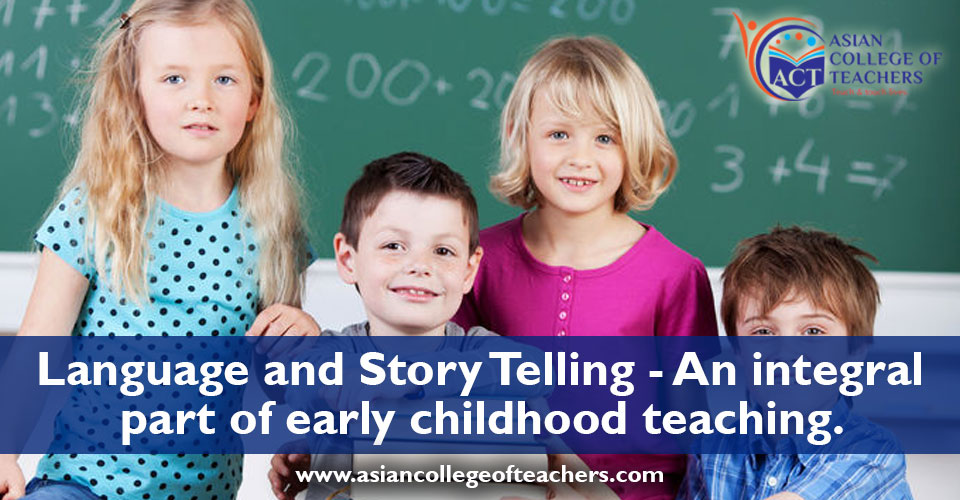 "Tell me the facts and I'll learn. Tell me the truth and I'll believe. But tell me a story and it will live in heart forever." – Native American Proverb
Importance of Storytelling
Telling a story to the children helps to capture their imagination; not only it gets them interested but also excited and therefore engages them in purposeful talking. Using a storytelling technique makes a subject familiar and easy to relate. Storytelling not only engages the students completely but it also plays an important role in building the foundations of a child's literacy development. Through activities like singing, sharing rhymes and riddles and telling stories, both traditional and nursery stories to our own tales about daily life, the teachers help the young children to know the important first skills that they need to go on to become confident and fluent readers. More importantly, one can say that we are making children appreciate and develop the love for languages which would give them the power to communicate, to entertain and to express their needs and feelings.
The correct way of storytelling and communicating to young learners can be learnt when the aspirants enrol with a training institute for courses like Pre Primary Teacher Training Courses; Montessori Teacher Training Courses; Nursery teacher training courses; Early Childhood Care Teachers Training Courses. These courses not only teach the importance of child development but also help us understand their psychology and needs.
As Jimmy Britton describes: 'reading and writing float on a sea of talk', it is important to be very clear about what we mean; to make the distinction between story-reading and being read to, from texts that have been written by others, and storytelling, where we craft texts of our own making or tell our own versions of tales from the oral tradition. By narrating tales, the children may begin to understand settings outside of their own experiences and try out their ideas in a safe and nurturing space. Reading stories and being read are both hugely important to a child's literacy development. Children can experience texts that are more challenging where they access on their own as an adult or older child takes away the decoding element of reading for them.
Advantages of storytelling are:
Encourages Discussion among the children and the teachers:
There are some pupils who are unable or not confident enough to speak out about a subject, but if explained in a practical way, by telling a story the pupil will feel safer and more willing to speak out.
Builds enthusiasm and excitement for Reading:
This is for reading in general, but should also inspire them to read additional texts and find stories of their own. Developing good reading skills as early as possible is imperative for a child's development.
Improves Listening Skills:
Particularly for primary school children who can be easily distracted and can lose concentration quickly. Storytelling is a fantastic way to keep the whole class engaged, and if a story is being told well they will be hanging on your every word.
Help develops creativity:
Allowing children to be creative can have important health and learning benefits. Storytelling is naturally a creative teaching method, allowing for freedom of expression and use of imagination.
Written By: Admin