What Opportunities Does the Indian Union Budget 2023 Offer for the Education Sector?
7th August 2023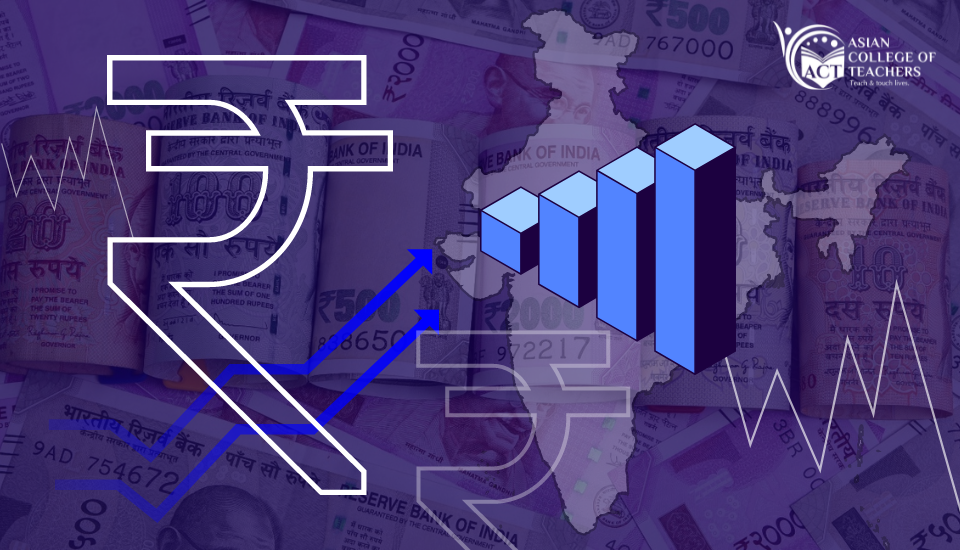 Nirmala Sitharaman, the Indian Finance Minister announced the Union Budget 2023 in February. According to the budget, special attention was given to the Indian education sector this year by allocating USD 13.67 billion. It is the highest ever sanctions received by the education sector to date with the Department of Higher Education and Department of School Education receiving sanctions of Rs 44,094 and Rs 68,804 respectively.
Apart from the grants the education sector is also expected to see a positive development towards inclusive education system across India. Read on to learn about everything the budget has in store for the education sector.
Major Highlights Of The Indian Education Budget 2023
The education budget of India for the year 2023 aims to bring about a revolutionary change in the country's education sector. With a primary focus on enhancing learning outcomes and preparing the youth for the global job market, the budget emphasizes innovation and upskilling.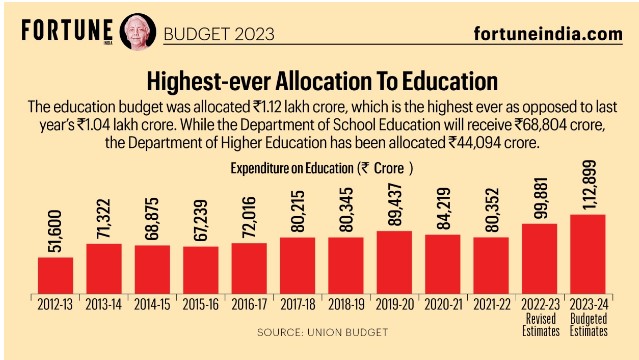 Source: fortuneindia.com
Teacher Recruitment for Indian Tribal Schools

To address the challenges faced by tribal schools and improve learning outcomes among tribal students, the education budget 2023 has allocated resources for the recruitment of 38,800 teachers over the next three years. These teachers will receive specialized training to cater to the unique needs of tribal students, ensuring quality education in underprivileged regions.

Through this initiative it aims to create a robust digital infrastructure in tribal schools, enabling access to innovative teaching methodologies and empowering both teachers and students with modern educational tools.

Hey, do you follow us on Social Media? We regularly share upgraded educational content, tips, feedback and more. Check us out by clicking the profiles here - Facebook / Twitter / LinkedIn / Pinterest / Instagram / YouTube


Centers of Excellence for AI Research

Artificial Intelligence (AI) has revolutionized various industries and has the potential to transform sectors like agriculture and healthcare. To harness the power of AI and drive innovation in these domains, the education budget 2023 plans to establish Centers of Excellence for AI research in three top educational institutions. These centers will foster collaboration between academia and industry partners, promoting interdisciplinary research and development.

With the integration of AI into education, students can gain valuable insights and access to cutting-edge technologies. It will recognize the significance of AI in education and continues to enhance its platform with AI-driven features to support teachers and students in their learning journey.


PM Kaushal Vikas Yojana 4.0

The education budget 2023 emphasizes the development of soft skills and 21st-century relevant abilities among students. Recognizing the importance of preparing students for the global job industry, the budget supports initiatives like PM Kaushal Vikas Yojana 4.0, where students can learn coding, robotics, 3D printing, and other essential skills.

By providing schools with international standard classrooms and offering experiential and skill-based courses, it will help students acquire the necessary skills to thrive in the modern job market.


Unified Skill Indian Digital Platform

To bridge the gap between job seekers and employers, the education budget 2023 proposes the establishment of a Unified Skill India Digital Platform. This platform will serve as a gateway for job seekers, providing access to various entrepreneurship schemes and opportunities.

The budget acknowledges the significance of a digital platform to connect job seekers with potential employers. By incorporating advanced job placement features and career guidance tools, it ensures that students are well-prepared for their career journey beyond the classroom.


Emphasis on Teacher Training and Upskilling

The education budget for 2023 places equal importance on teacher training and upskilling. Increased expenditure on research and development (R&D) will enable the enhancement of teaching methodologies and pedagogies to create a more conducive learning environment.

Equipped with a cutting-edge learning management system, advanced administrative tools, and comprehensive digital content, it empowers teachers to deliver effective and engaging lessons, promoting holistic student development in line with NEP 2020 guidelines.


Promotion of Indian Regional Languages

Recognizing the importance of promoting regional languages in education, the government has allocated a considerable portion of the education budget to this endeavor. By adhering to the guidelines of the NEP 2020, the authorities are aiming to enhance conceptual clarity and create a seamless learning experience for students.

To achieve this, government publishers, including the National Book Trust, will supply books in both regional languages and English. These books will be made available in the physical libraries, catering to the diverse linguistic needs of learners.


Diversity in E-learning Materials

To create a nurturing learning environment, educators and students will have access to a vast range of e-learning materials. Thus, digital libraries are to be established across various locations to provide the best learning resources to learners. In addition to this, physical libraries are to be set up at Panchayat levels as well.

This step will allow students to access the resources of the National Digital Library across multiple languages, locations, and devices. Furthermore, schools can leverage the advantages of digital libraries to enable a better learning space. This approach ensures that education remains accessible and engaging for all students, regardless of their linguistic preferences.


Empowering Educators Through Training

Recognizing the crucial role of educators in shaping the future of the nation, the education budget places special emphasis on their professional development. To equip teachers with innovative pedagogy, curriculum transaction, and effective implementation of information and communication technology (ICT), the budget provides extensive support through Continuous Professional Development (CPD) surveys.

These surveys help identify areas where educators require further training and support, enabling them to continuously improve their teaching skills.
The Impact Of The Indian Union Budget On The Education Sector
The education budget of India for the year 2023 is a testament to the government's commitment to revolutionizing the education sector. It talks about finding ways to enhance learning and prepare young minds for the global job market. It also pays equal attention to offering teacher training courses to allow teachers to upskill and reskill themselves while realizing their vision in action. With a focus on AI and digital platforms, the education budget for 2023 is sure to bring revolutionary change in the education sector.
We believe education should be accessible for everyone. That's why we don't charge for our blogs. Find the right course that will help you in your career with us, contact us at - 1800-212-6400. You can mail us at act@asiancollegeofteachers.com
Written By: Sonal Agrawal