4 Modern Teaching Aids For Nursery Classrooms
16th August 2022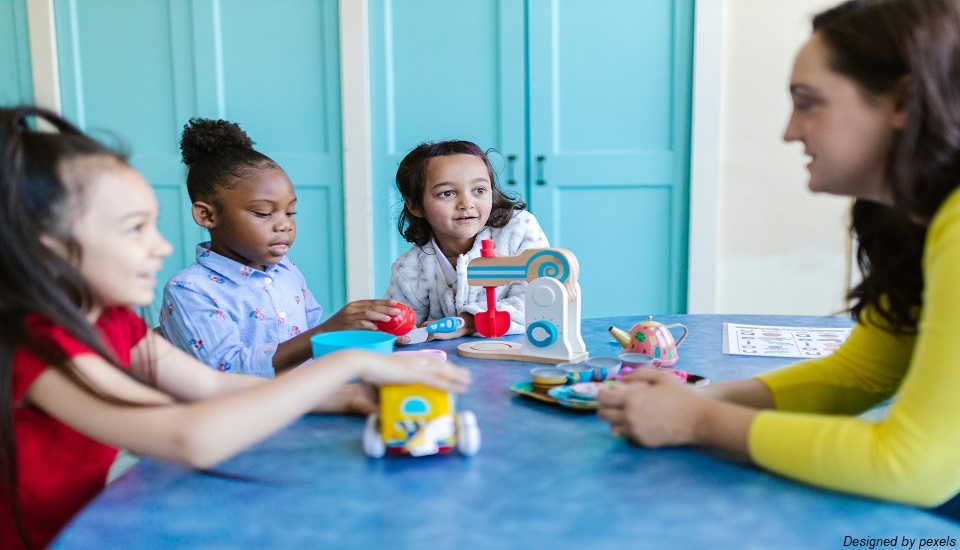 A Diploma in Nursery Teacher Training Course online will train you on the methodologies to impart knowledge to the little children and will also acquaint you with modern teaching aids which are being used in today's modern-day classrooms.
Teaching is incomplete without the teaching aids. Teaching aids help to facilitate the reading, writing and speaking skills of the students. Broadly speaking, the teaching aids can strengthen the concepts, facts or skills that have already been learnt by the students. The correct teaching aids are user friendly and interactive and help to remove the boredom, anxiety, fear or any other complex feeling that the students may develop while learning their subjects of study. In earlier days teaching aids like black/green boards, DVDs, VCRs were extensively used in the classrooms, but with changing times, modern teaching aids are very helpful in this respect because they use the play-way method and make learning fun and interactive like any engaging activity, which is especially required in the case of very young learners. The use of interesting features such as graphics, audio and visuals in the modern training aids make learning very impressive as they manage to leave imagery of the lessons in the minds of the students.
Here is a list of the four most important and most widely used modern teaching aids in nursery classrooms across the globe.

Computers

Since the advent of the first computer that was built in 1991, computers have indeed come a long way and have evolved vigorously. At present having a computer is not a luxury but a necessity. And that necessity extends up to the class of nursery also. Modern education and computer dependency are inseparable.

In its early years, computers were not accepted by a majority of the people and were condemned strongly. But with time, we have realized its advantages and how it has helped people do their job across all professions. Computers have also made the teachers' jobs a lot easier and the learning process more effective. They have also facilitated the use of multimedia, audio-visual learning etc., in the classrooms thereby encouraging children to be more interactive with the rest of the world.

On the other side, if the computer is attached to an internet connection, then nothing better than that – the world is at your fingertips. Hence, along with the learners, teachers also immensely benefit from this teaching tool as you get to know more about the new and innovative teaching methods, their effectiveness, new popular trends, etc.


Smart Boards

Gone are the days when our teachers used to write on the black or greenish rectangular teaching tool - the board, in a classroom. Today, instead interactive electronic whiteboard, commonly known as smart boards, have found their place there. Smart boards have become the latest trend and an integral part of education.

Hence, more and more teachers must develop knowledge on using smart boards as most classrooms are coming up with these. Installing a smart board is not an inexpensive one, no doubt, but the interactive feature that it facilitates is something that teachers can never shy away from.

There are of course a few disadvantages of this aid such as the electricity bill that will be skyrocketing; you might also find that the young learners might find it difficult to access from anywhere in the classroom, and many more such problems.


PowerPoint Presentation

Though this method of presentation is widely popular in business organizations, however using the slides of PowerPoint for presenting a particular lesson will capture the children's attention. With numerous sound and animation options, you can make even a still picture move across the screen and amaze the children.

It is cost-effective too as you do not need to buy or install any extra tool to work with this. While completing your Diploma in Nursery Teacher Training Course online, you can gather knowledge about preparing a presentation in PowerPoint, handling it and presenting it as well to the young learners.

One of the biggest advantages of using PowerPoint presentations as a teaching aid is that apart from being cost-effective, with a little training, your tiny learners can also learn to handle them. No other aids such as the smart boards or other tech-savvy aids are this learner-friendly. The extent of interaction between the teacher and the child is also greater compared to others as you can make slides as per your specific requirements.


Other technical tools

Apart from what we mentioned above, there are a bunch of other aids that are used in nursery classrooms such as DVD players, slide projectors, projector screens, VCRs, etc. Though these tools are not much in use in today's classrooms due to the discovery of other easy to use teaching aids, yet the contributions of these elements remain undeniable. Using these tools, you can show an informative short film, project your slides, etc. However, with the advent of the computer and thereafter the internet, the use of these aids has become a bit obsolete.
Conclusion
As we grew up, we could not imagine teaching, without a teacher standing at the blackboard with chalk in hand, drawing diagrams and pictures or writing the lesson notes on the blackboard which the students copied in their notebooks. Though most Indian schools are continuing with the same methods of teaching, yet many schools have changed to the modern methods of teaching as explained above. Diploma in Nursery Teacher Training Course online is something that will prepare you for managing these tools.
The teachers of today will need to change their teaching strategies from the modern era and must be adapted to these. You have to be selective in choosing teaching aids relevant to the lessons and subjects you teach to make use of both the traditional as well as the modern methods of teaching.
Written By: Rimpa Ghosh