Tips To Build A Powerful Resume As A Preschool Teacher
26th May 2022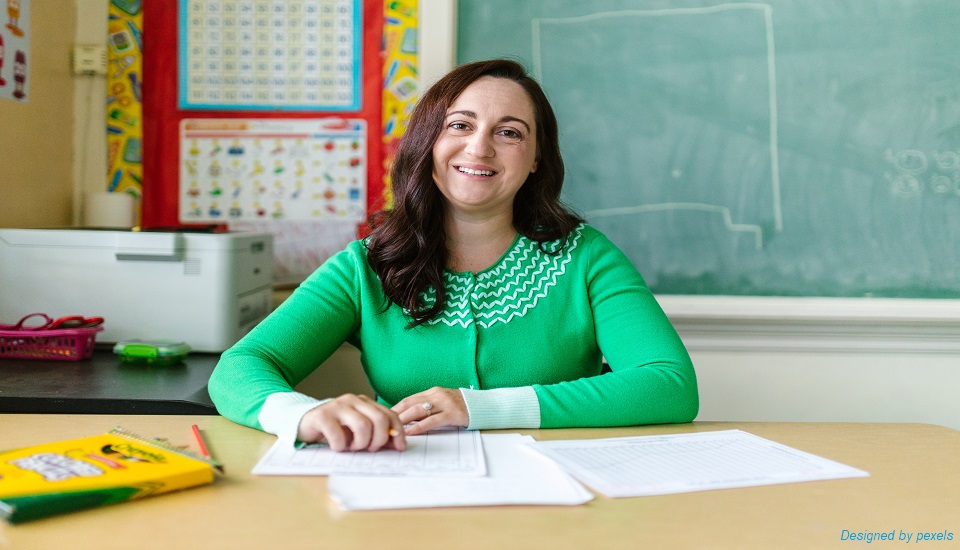 "The Constitution (Eighty-sixth Amendment) Act, 2002 inserted Article 21-A in the Constitution of India to provide free and compulsory education of all children in the age group of six to fourteen years as a Fundamental Right in such a manner as the State may, by law, determine."
This law made by the Indian government has actually led parents to send their kids to school. That is a major reason why the demand for preschool teachers, nursery school teachers, and early childhood education teachers has increased a lot. A career as a pre and primary teacher is, therefore, an excellent choice for a teacher job.
A pre and primary teacher training course is required along with some other academic qualifications to get hired as a preschool teacher. Some schools also look for some prior work experience along with a bachelor's degree. In this blog, we shall be discussing how to create preschool teachers' resumes so as to catch the attention of recruiters.
The Indian government is working hard to improve the condition of preschool education. They are improvising the infrastructure, and the syllabus, and are looking for good quality teachers who can provide excellent education to children. Also, there is a practice that continues in almost every house in India that beyond the school curriculum parents are enrolling their children in various coaching centers.
Well, it might apparently look like children are having an extra amount of education but to some extent, it is robbing their childhood and overburdening their little shoulders. They are always within the periphery of academics and have no time for extracurricular activities. This in turn often drains the creativity and innovative ideas of kids.
To reduce this, public and private schools are looking for preschool teachers who can provide the right amount of education to students. Preschool teachers are responsible for making lesson plans keeping in mind the capabilities of young children. There are many qualified preschool teachers available across the nation but only a few get hired because they do not know how to design a resume.
Learn how you can develop your resume:

A pre and primary teacher might not have relevant work experience but a preschool teacher's accomplishments often get highlighted more than the lack of work experience. In fact, an early childhood education teacher's resume should be also based on mostly highlighting the accomplishments and skills that she/he knows.
Well, to begin with, a resume must be created so as to draw the attention of the hiring manager. It does not mean that one must write a bunch of high school stuff just to get the attention. Honestly, recruiters are experienced enough to understand which resumes are having fake statements. They immediately reject those.
The picture below is a sample resume for preschool and early childhood education teachers that they can follow to build their own resumes.

Let's now study the sample resume. We shall be explaining the points so that it becomes easier for teachers to understand the importance of every segment mentioned on the resume.
On the top left corner, we can see the photograph of the preschool teacher that is not externally attached to the resume. Attaching any photo or document after printing out the soft copy of a resume is a big turn-off for recruiters. It is full of a hassle as it has the tendency of getting loosened. Thus, while creating the resume it is advisable to place a formal photo. Check the background of the photo that is subtle and simple. Having a loud background will only create chaos.
Just below the photo, the designation of the teacher is mentioned as per the current job she is having. If you're a fresher, you do not need to write anything or you can mention AN ASPIRANT PRESCHOOL TEACHER. Do not forget to mention your contact credentials. You can mention your e-mail id, cellphone number, or both. Make the job easy for the recruiter to understand where you work and the environment you're currently based by mentioning the website address of the current organization you're committed to.
If you're a fresher, mentioning your LinkedIn profile is a must. Having a well-constructed LinkedIn profile is very vital in today's job market. You must be aware of various communities related to your job profile, the subjects you have studied, or the kind of job you're searching for. This gives an impression to the recruiter that you are not lazy and have the zeal to crack a good interview session.
The profile is actually the job description section where you summarize the job you're currently doing. If you do not have any work experience, you can add a resume objective. Let's see what a resume objective looks like.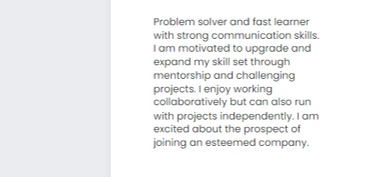 If you see minutely, the employee has expressed the skill sets she/he is having. It shows the potential or capabilities that the employee is having. You being an aspirant pre and primary teacher can definitely mention some of your teacher skills apart from the skill sections.
Well, the skill section comes right after the profile segment. This section should have your best qualities as a preschool teacher which you have either self-evaluated or have been endorsed by others from the same genre of the same or higher hierarchy.
On the right side of the resume, you must have all your academic qualifications along with a brief of what you've studied and your work experience. There is a chronological order that you should maintain so that recruiters do not get confused while going through your resume. The work experience, if any, should be at the top and the period of working is a must mention. Then you should have the academic qualifications you are having in descending order. Refer to the sample resume and you can find out that the pre and primary certification course is followed by the postgraduation degree, and then the bachelor's degree. You can add your high school qualifications if you want to but that is not mandatory.
Adding a cover letter is important and this one you can place separately on a different page. A cover letter tells the recruiter why she/he should consider you the best candidate fitting that particular job position. You can mention how that job position can utilize the skills you have. It might be your soft skills, your technical expertise, interpersonal skills, and so on. The motto is to create a genuine impression of how that position needs you and how much you shall be giving efforts to justify that job.
So, that was all about how to create a resume for a pre and primary teacher. Considering a career as a pre and primary teaching is absolutely graceful but to shine through the interviews you must stay abide by these important points in your resume. If the certificate in pre and primary teacher training courses is endorsed by global bodies, add the names of those institutions without a second doubt.
Call our toll-free number 1800-212-6400 if you want to know about pre and primary teacher training courses.
Written By: Sheetal Sharma