Get into Virtual Teaching with Asia's Best Teacher Training Institute
Asian College of Teachers is a research driven, award-winning teacher education institute. All ACT students can also opt for Microsoft Certified Educator (MCE) program by Microsoft at an additional cost.
Learn the best virtual teaching tactics with Diploma in Virtual Online Teaching from ACT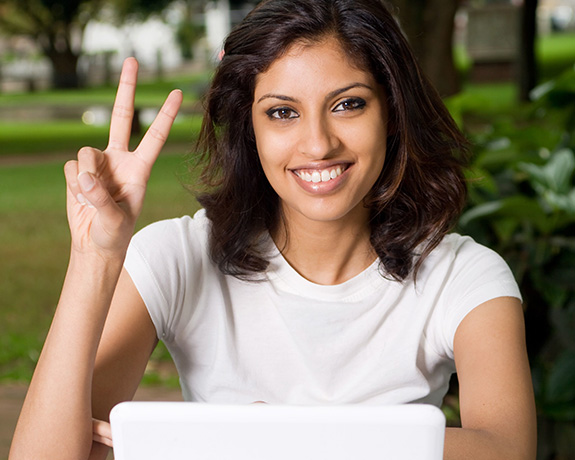 Most teachers are less equipped to navigate the internet and the nitty-gritty of conducting a virtual classroom mediated by a screen and microphone. Technical difficulties, trouble with WiFi are adding more to their panic over the prospect of teaching the full class over the new platform. This has led ACT to design a training course for Virtual Teachers after careful planning and research, for aspiring as well as on-the-job teachers, planning to step into the world of virtual teaching. With everything becoming digitalised, it is natural for learners to seek a virtual learning. Today's learners are well acquainted with technological tools and hence will look for opportunities to consume information online.

If you want to be part of this change, make your teaching more appealing to the learners and thrive as a teacher, then join us for our virtual training course and be equipped with the latest teaching concepts and skills. Our course - Diploma in Virtual Teaching (VOLT) is an advanced course that comprise a detailed curriculum in virtual learning, acquainting you with the nitty-gritty of teaching learners in a virtual classroom.
At a glance - the advantages of virtual teaching and learning
Learners can access course of study from anywhere
They can pursue any course of their choice
Online learning offers comfort & flexibility
Cost effective than classroom learning
Less use of paper work hence good for our environment
Easy access to course materials and information
Our Trainer
We, at Asian college of Teachers, have an outstanding group of trainers who impart high quality training and share knowledge and best practices to equip students with the latest methodologies in the field of teaching and allied areas preparing them for the global classrooms.
Dr Margaret Maughan
Dr Margaret Davitt Maughan is a Senior Educator with Ed.D. Leadership, from the University of San Francisco and 35 years of experience in classrooms, curriculum development and interdisciplinary studies. She has the expertise in instructional organization and the ability to make the subject useful. Dr Maughan has also been into academic research and has several professional presentations and publications to her credit.
Dr Janat Blackmon
Dr Janat is a Canadian educator and PYP Baccalaureate educator who is passionate about international teacher training and has completed her PhD in Education Leadership. Presently, she is based out of Texas, USA and engaged with a leading school project She has been working at KIS – an incredible IB World School/CIS accredited international school in Bangkok, Thailand. She has 9-year experience working with Lertlah Schools in a Thai-English Program with Canadian curriculum.
Ms. Kuhurina Basu
Ms. Basu holding M.A., M.Sc., has 30 years of teaching and 10 years of administrative experience in Mumbai, India and London, UK. She has been Master Trainer and Centre Head for the Cambridge International Diploma for Teachers and Trainers in Navi Mumbai and has also served as ESOL tutor, mentor and administrator at East London Business College, London.
Ms. Aditi Ghosh
Ms. Aditi is an English major from the University of Calcutta and a certified SEN trainer with 16 years' experience in the training field. She got trained in TEFL in-class program from Asian College of Teachers, Kolkata and successfully cleared the TESOL Canada Board Exam as well. Aditi stands tall and strong with an extensive experience in training adult learners as a professional language and soft skills trainer.
Ms. Rimpa Ghosh
Ms. Rimpa holds B.A in English from the University of Calcutta. She has done the 120-hour in-class TESOL program and is also certified IELTS trainer. Her areas of expertise are Communicative English, Early Childhood Education, Experiential Learning, Leadership Skill Training and Mentoring. She has facilitated a variety of training programs across mid and senior levels.
ACT HOSTS A SERIES OF LIVE ONLINE WORKSHOPS ALL THROUGH SEPTEMBER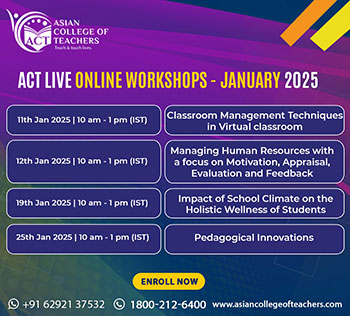 Boost your teaching career with our series of Live Online Workshops. Join us for three webinars with academic experts who will provide the tools and strategies for highly contextualized professional learning and help refine the pedagogies required to teach 21st century learners.
Flexible and cost-effective learning
Develop 21st century teaching competencies
Collaborate and get expert support
Interact and engage with your peers

CERTIFICATE IN VIRTUAL ONLINE TEACHING (VOLT)
Asian College of Teachers offers Certificate in Virtual Online Teaching program that allows you to prepare as a virtual teacher with the knowledge of the tools and techniques of online teaching. Post pandemic there is a surge in online teaching leaving the traditional classrooms behind and driving the teachers to adapt to this new form of teaching. This shift, however, will open up many doors of opportunity in virtual teaching and this course will help you to gain an in-depth knowledge and a wide range of skills for a virtual teaching career.

The course aims at equipping you with the fundamentals of Virtual Teaching for instructional designers and online educators. It will train you to handle a virtual class that is way different than traditional classrooms where the teaching approaches and classroom management scenario pose new challenges which might sometimes hinder the learning process. Become conversant with varied approaches to virtual teaching and learning and become a smart teacher in no time.
Duration: 2 months (extended till 4 months)
Course Fee: 8,000 INR
Certificate: Globally recognised certificate from Asian College of Teachers
MCE Program: Avail MCE Program at an additional fee of Rs 3000
Mode: Online

DIPLOMA IN VIRTUAL ONLINE TEACHING (VOLT)
Asian College of Teachers has come up with Diploma in Virtual Online Teaching program to prepare you as an educator who will be acquainted with the tools for virtual learning and resource sharing. Post pandemic digital teaching has taken over classroom teaching forcing the teachers to adapt to this new form of teaching. The shift to a virtual mode of teaching and learning begins with the consideration of how educators can play the role of lesson creators while utilising their resources and experiences in sync with the changing scenario of global learning.

The program aims at equipping you with a detailed guidance on Virtual Teaching for instructional designers and educators. It also provides a basic concept and information on the various processes and resources involved with e-learning, useful tips and guidelines for the use of online platforms which will go a long way for your development as a smart teacher.
Duration: 3 Months (can be extended till 6 months)
Course Fee: 12,000 INR
Certificate: Globally recognised certificate from Asian College of Teachers
MCE Program: Avail MCE Program at an additional fee of Rs 3000
Mode: Online
Course Fee & Support Services
Reasonable course fee of Rs 12,000 only
Varied online payment modes available
Complete guidance from the accomplished trainers
Easy access to academic and support teams via mail, chat
Certification
Globally recognised certificate from ACT
Certificate is accepted all around the world
ACT certificates provide competitive advantage
Shipment of certificates done at minimal cost
Assessment & Evaluation
Experienced tutors address individual requirements
They provide appropriate developmental support
They assess based on the trainee's individual needs
Evaluation done on the basis of varied parameters
Job Opportunities
Trainees can work in any field as virtual teachers
Be your own master and find work as per your choice
Teach via any institution or take tuitions directly
Openings galore in any part of the world as a teacher
CERTIFICATES & ACCREDITATIONS