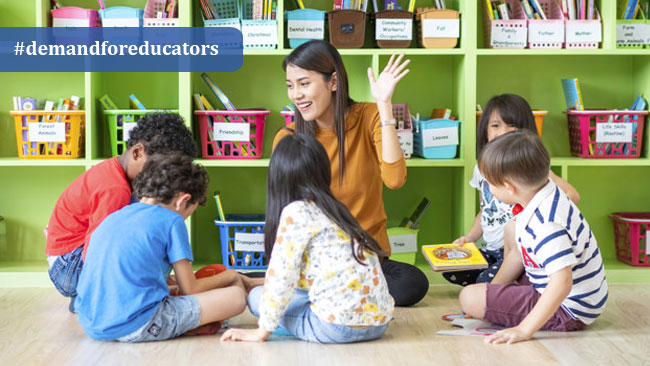 Around 24 million primary school teachers are required globally by 2030
As per the UNESCO Institute for Statistics (UIS), around 24 million primary school teachers are required globally in the next 10 years – Let's take a closer look. The world is facing a substantial demand for teachers in both primary and secondary sectors. According to UNESCO, "In the next 10 years, around 24 million primary school teachers must be recruited globally."
Academic Support

Get complete guidance while pursuing the course from our expert trainers and total back-end support catering to your academic needs with easy access to the resources and course materials.

Interact online from anywhere
Trainees will get opportunity to attend live classes and take part in collaborative activities with their trainers and peers virtually from anywhere at the click of their mouse.

Cost effective learning
Webinar based courses are also cost-effective due to its ability to not just train but empower future educators and impart training to participants without time-consuming and costly travel.
Act Becomes Member Of The Renowned European Association For International Education - EAIE
Asian College of Teachers (ACT), leading teacher education in Asia, is now a proud member of European Association for International Education (EAIE). Founded in 1989, the EAIE is the European centre for expertise, networking and resources in the internationalisation of higher education.
Some of the main challenges faced by School Leaders
When we think of school leadership, we tend to think about school principals and supervisors who are responsible for monitoring the operations of their respective institutes, managing the curriculum and syllabus, guiding their wide range of students, communicating with the parents and authorities, and a slew of other responsibilities that are embedded into their roles.
The Ways in Which Corporate Training Has Been Evolving
In addition to being extremely important, corporate training is also a constantly evolving field wherein it is mandatory for the trainers and organisations to keep a look out for emerging corporate training trends prevailing in the marketplace.
Hands-on Suggestions For Creating a Montessori Approach Based Home For Your Toddler

Today, each parent desires to give their child the best education and they have also realized that only the academic accomplishment will not formulate their child for a lifetime. Each child has definite crucial needs as it rises. We understand this may seem overwhelming for a lot of parents but it's not that much tough.Most of the time, parents are of the attitude that it's problematic to create a Montessori home environment for their child.

Learn 21st Century Teaching Techniques with our Live Online International TEFL/TESOL Program.
Our Live Online TEFL Course is being offered in sync with the increasing popularity of digital learning environments where our students across the globe get this opportunity to attend live classes on TEFL, facilitated by our expert trainers and take part in the live interactive sessions with them as well as with their peers, and collaborate in activities with the use of video conferencing technology.

How to prepare your CV to Teach English Abroad
The video speaks of different tips and tricks to prepare your CV to teach English in the global market.
Live Webinar: How to Evaluate your Corporate Training Strategy?
ACT conducted a Live webinar on How to Evaluate your Corporate Training Strategy with Prof. Sritama, Assistant Professor & Certified Soft skill Trainer with Department of Business Management, Techno International Newtown Kolkata, Techno India Group on 7th November 2020.